ZTE earns prestigious "5G Transport Vendor" award at NGON&5G Transport 2023
Release Time:2023-06-02
ZTE 5G optical network solution provides ultra-large bandwidth for ultra long haul transmission as well as ultra-low latency and ultra-high precision
ZTE has successfully implemented its 5G optical network solution on a large scale worldwide
Mandelieu-La Napoule, France, June 2 2023 - ZTE Corporation (0763.HK / 000063.SZ), a global leading provider of information and communication technology solutions, has been awarded the prestigious "5G Transport Vendor" accolade at NGON&5G Transport 2023. This recognition solidifies ZTE's comprehensive capabilities in delivering highly acclaimed optical networking solutions and products for 5G transport.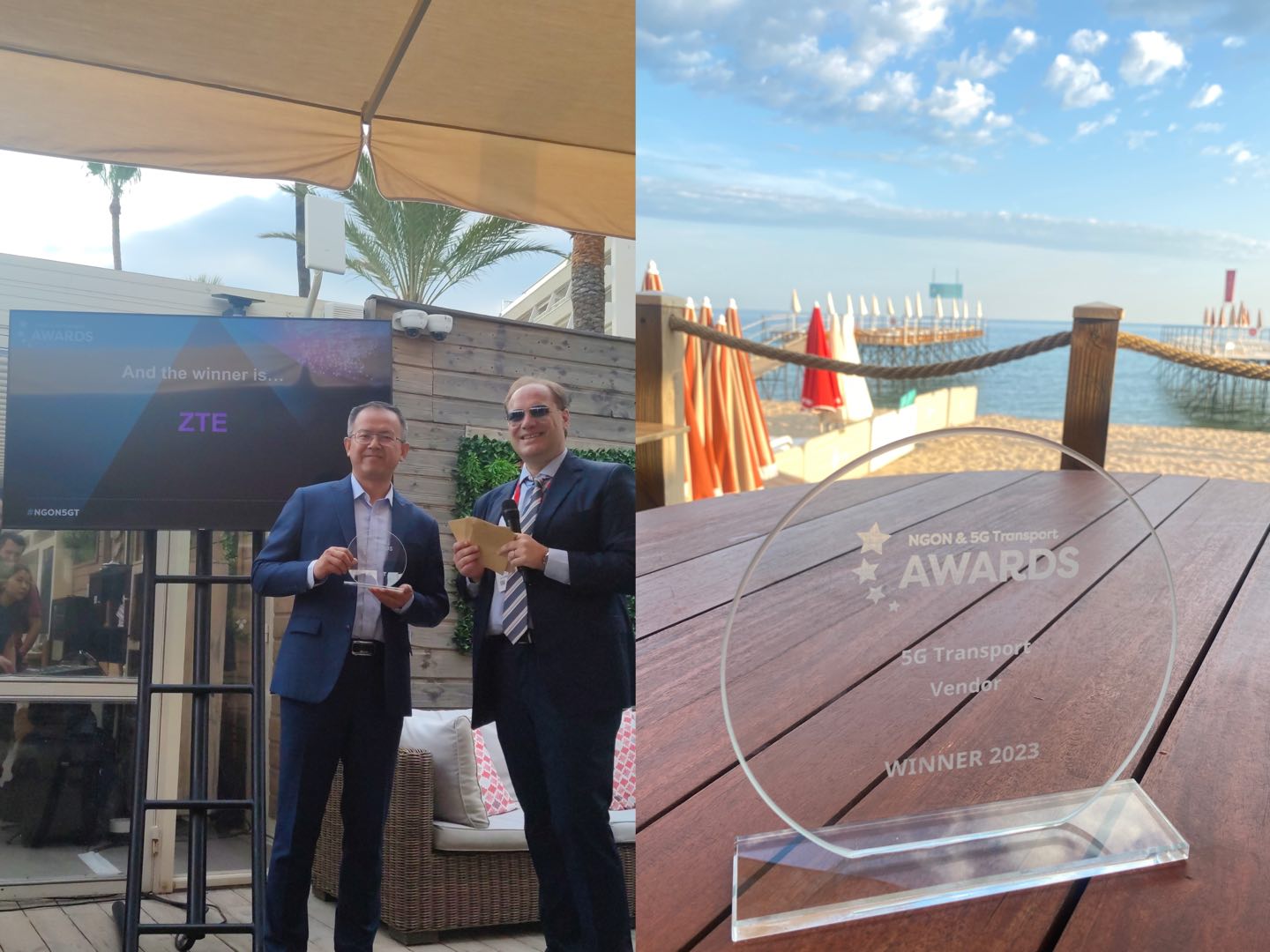 Wei Xiaoqiang, Chief of ZTE's Transport Network Product and Marketing Department, accepting the award
The NGON&5G Transport stands out as the exclusive optical-focused event in the industry, providing a  platform where the entire supply chain converges to gather insights from all market players. The NGON&5G Transport awards serve as a celebration of the notable achievements and innovations within the optical transport and 5G Transport industry in the past year. These exceptional winners are carefully selected by a panel of judges comprising leading operators, esteemed analysts, and respected media journalists worldwide.
ZTE has been selected primarily for its industry-leading 5G optical network solution. Firstly, it launched the industry's first Real 400G solution, enabling Ultra Long Haul transport based on 400G QPSK @C6THz+L6THz in the existing network. This groundbreaking solution not only greatly extends the transmission distance but also doubles the system capacity, effectively delivering large bandwidth for 5G services.
Secondly, with its simplified network architecture and OXC, ZTE achieves one-hop access to meet the ultra-low latency requirements of latency-sensitive 5G services such as telemedicine. Moreover, with AI, big data analysis and an SDN management & control system, ZTE can deploy services end-to-end within minutes and enable network slicing of different granularities based on λ/ODU/OSU/VC/packet, ensuring the flexible transport of various 5G services.
Furthermore, ZTE's solution incorporates an innovative timestamp label, significantly enhancing the time precision of individual devices to meet the high precision requirements in 5G service scenarios.
To date, ZTE has successfully implemented its 5G optical network solution on a large scale  worldwide. A notable example of this is its collaboration with Turkcell, where they jointly deployed the industry's first commercial Optical Transport Network (OTN) in Bursa in June 2022. This cutting-edge network  supports 12THz ultra-wide frequency spectrum, significantly enhancing bandwidth capacity in Turkey. As a result, Turkcell's subscribers can now experience high-speed internet access.
Wang Taili, General Manager of Optical Transport at ZTE, said,"This award highly recognizes our excellence in 5G optical transport field, and it will encourage us to continue deeper research and boost further development of 5G optical networks in the future."