TM inks MOU with ZTE for R&D innovation under latest strategic partnership programme
Release Time:2023-06-01
 Collaboration will focus on R&D opportunities and commercialisation, product and technology improvement, and enhancement of TM's digital talent ecosystem
TM's R&D arm will provide hardware testing and design enhancement, consultation on digital platform technologies, and integration solutions
TM will also serve as ZTE's preferred solutions deployment business partner in Malaysia and the region
Kuala Lumpur, Malaysia, 1 June 2023 - ZTE Corporation (0763.HK / 000063.SZ), a global leading provider of information and communication technology solutions, has today entered into a MOU with TM, Malaysia's leading converged telco and technology company, to collaborate on a range of research and development innovations under its latest strategic partnership programme.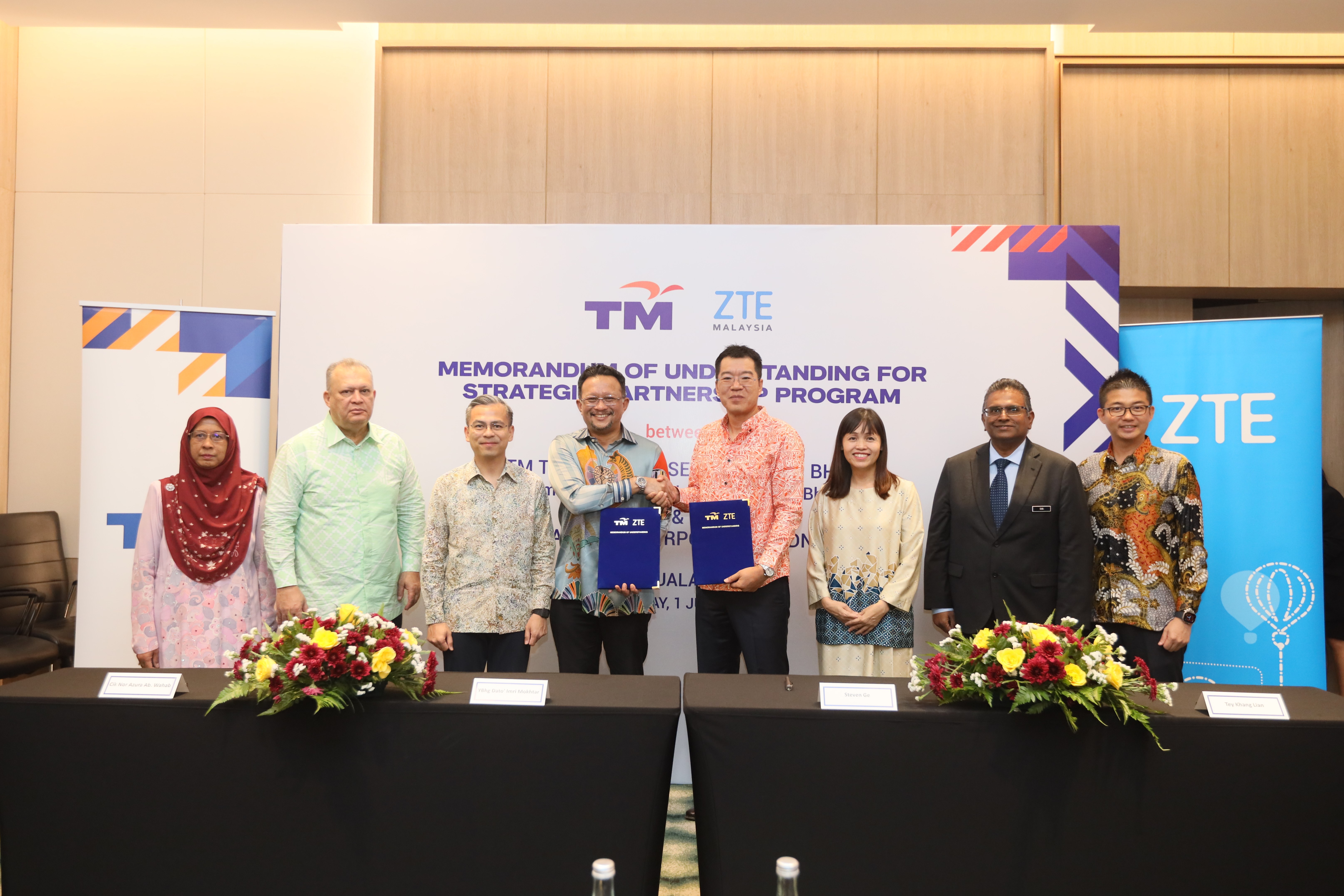 TM's Group CEO Dato' Imri Mokhtar (fourth from left) and ZTE (Malaysia) Corporation Sdn. Bhd. Managing Director Steven Ge (fifth from left) signed the MOU for R&D innovation in the presence of MCMC and Malaysia's Minister of Communications and Digital
The partnership will leverage TM and ZTE's joint expertise to drive innovation and digital transformation for customers and industries, focusing on R&D opportunities and commercialisation, product and technology improvement, and the enhancement of TM's digital talent ecosystem.
The collaboration will also serve as an important step towards strengthening the nation's digital and telco infrastructure, and empower Malaysia's competitive edge in delivering cutting-edge solutions to the marketplace.
Slated to run for a period of three years, the MOU was presided over by YB Fahmi Fadzil, Minister for Communications and Digital; YB Teo Nie Ching, Deputy Minister for Communications and Digital; and Tan Sri Mohamad Salim Bin Fateh Din, Chairman, Malaysian Communications and Multimedia Commission. The MOU was signed by TM's Group Chief Executive Officer, Dato' Imri Mokhtar and ZTE's Managing Director, Steven Ge.
Building on TM and ZTE's ongoing investments and commitment to R&D and innovation, the partnership aims to deliver new products and services, with TM serving as ZTE's preferred business partner to deploy innovative solutions, go-to-market strategies, commercialisation, and networking across various markets and customer segments in Malaysia and regionally.
The two companies will also work on network and technology planning and overall digital transformation by bringing together Software as a Service (SaaS), Platform as a Service (PaaS), and Anything as a Service (XaaS) providers to develop customised end-to-end solutions for various industry sectors.
Aside from technological developments and aligning with TM's transformation as a human-centred TechCo, the collaboration will focus on enhancing TM's digital talent ecosystem, covering areas such as talent competency best practices, professional competency framework, technical training and certifications for digital transformation, as well as cross-border knowledge sharing on new technologies.
Dato' Imri Mokhtar, TM's Group Chief Executive Officer, said: "We are pleased to partner with ZTE once more in providing new innovations that will serve today's digital customers and industries. Spearheading these efforts will be TM's R&D arm who will provide hardware testing and design enhancement, consultation on digital platform technologies, as well as integration solutions to ensure our offerings are market-ready. This MOU comes on the heels of another recent joint research in next generation access technology to enhance Malaysia's high speed internet connectivity. Introducing the first ever 50Gbps bandwidth in Malaysia has prepared us to drive other innovative services such as 5G, Cloud VR, and intelligent manufacturing which will benefit communities, businesses and the government."
Steven Ge, Managing Director of ZTE (Malaysia) Corporation Sdn. Bhd. concluded: "As a global leading integrated communication information solution provider, we're looking forward to collaborating with Malaysia's leading telco player. We're confident that our collaboration will bring forth new innovations and solutions to address the growing needs of today's digital markets. ZTE is also committed to supporting TM's digital transformation and talent ecosystem growth through our global expertise and resources. We believe that this partnership will create a win-win situation for both parties and set a new industry standard for strategic collaborations."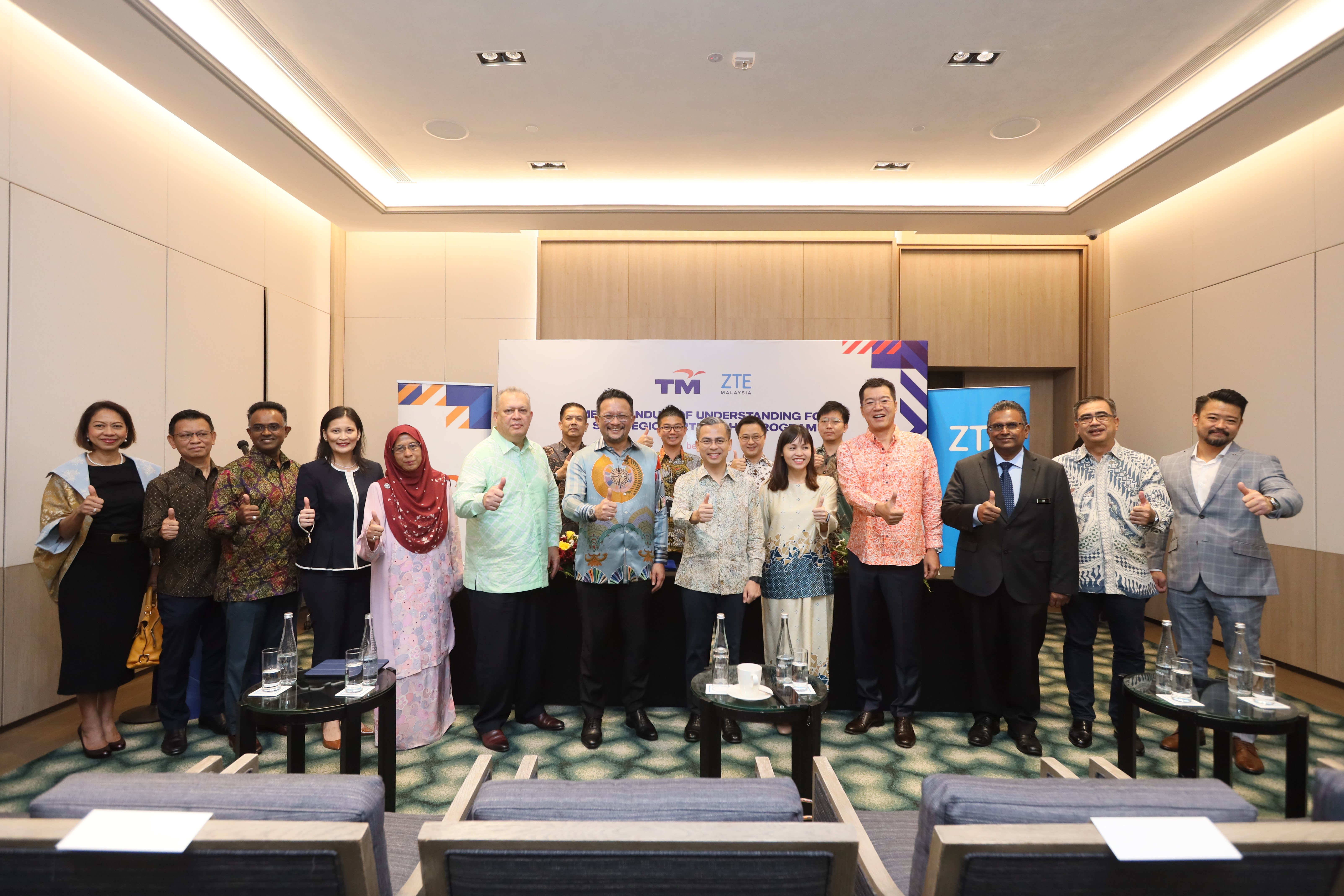 A historic moment as TM and ZTE officially solidify their strategic partnership by signing the MOU to usher in a new era of collaboration and innovation
About TM:
TM is Malaysia's leading converged telco and technology company, offering comprehensive network and digital infrastructure solutions and services for consumer, enterprise, public sector and carrier market segments locally and globally. As the enabler of a Digital Malaysia, TM is humanising technologies in converged fixed broadband, mobile, data services, smart services and innovative solutions to shape digital communities, businesses and Government.
Committed to improving lives and making technology accessible to all Malaysians in a sustainable manner, TM leverages industry best practices and secure, agile operating models to drive stakeholder value creation and deliver exceptional customer experience.
With social, economic and environmental commitments underlying its transformation to become a human-centred TechCo, TM has set sustainability targets throughout its operations to improve its near- and long-term business performance. Building on its strong corporate governance ecosystem, TM adheres to the highest standards of ethics, integrity and transparency to deliver solutions for the future.
For further information, visit www.tm.com.my   
ABOUT ZTE:
ZTE helps to connect the world with continuous innovation for a better future. The company provides innovative technologies and integrated solutions, its portfolio spans all series of wireless, wireline, devices and professional telecommunications services. Serving over a quarter of the global population, ZTE is dedicated to creating a digital and intelligent ecosystem, and enabling connectivity and trust everywhere. ZTE is listed on both the Hong Kong and Shenzhen Stock Exchanges. www.zte.com.cn/global
FOLLOW US:
Facebook  www.facebook.com/ZTECorp
Twitter  www.twitter.com/ZTEPress
LinkedIn  www.linkedin.com/company/zte
YouTube www.youtube.com/@ZTECorporation
MEDIA INQUIRIES:
Sharmila Theenathayalu
AGM, Media Relations (Business)
Strategic Communications
HP: (012) 3010 245
Email: sharmila.theenathayalu@tm.com.my
ZTE Corporation
Communications
Email: ZTE.press.release@zte.com.cn