DNS:NET and ZTE jointly achieve the highest FTTH bandwidth in Berlin metropolis with 50G PON, 5 times higher than 10G PON
Release Time:2023-05-29
 Five times Higher Bandwidth Achieved in the Next-generation 50G PON Test
 The 50G PON test prepares new powerful technologies for the next generation of telecommunication infrastructure in Berlin metropolis, Germany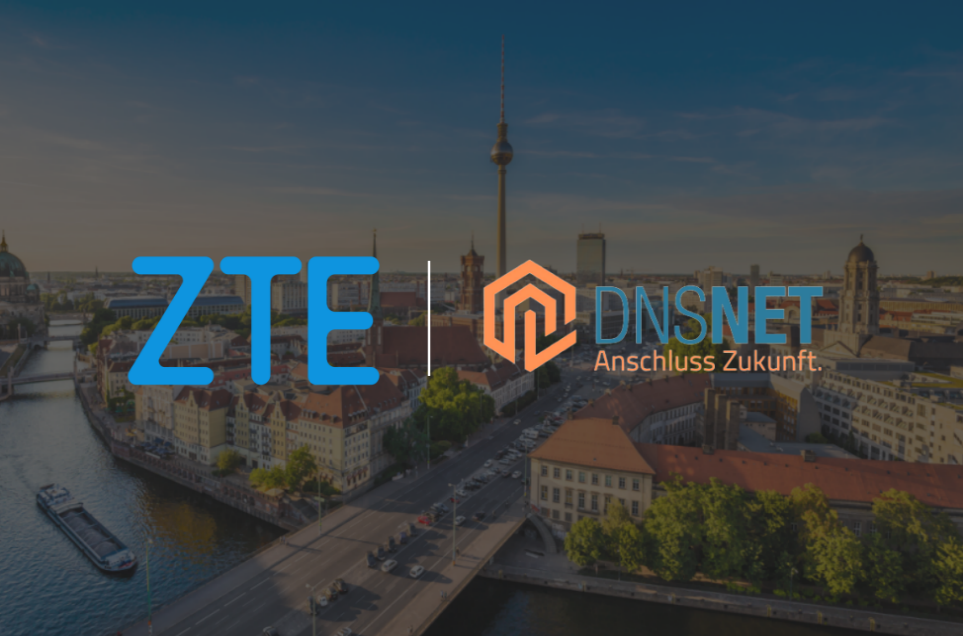 Berlin, Germany, 29 May 2023  ZTE Corporation (0763.HK / 000063.SZ), a global leading provider of information and communication technology solutions, has announced that during the 50G PON test conducted by DNS:NET on April 5th, they achieved "the highest FTTH bandwidth in the Berlin metropolis" over DNS:NET's fiber optic network.

ZTE's 50G PON technology is poised to serve as the primary platform for delivering ultra-high speeds necessary for cutting-edge application scenarios such as Artificial Intelligence, Internet of Things, Augmented Reality, and more. During the test conducted at the DNS:NET Testlab in Berlin, ZTE's new generation 50G PON technology demonstrated remarkable performance. Utilizing the existing OLT chassis with 50G PON cards and ONTs, the test recorded a maximum download speed of 45.62 Gbps and an upload speed of 21.87 Gbps over fiber cable, in accordance with standard RFC2544. Consequently, a total speed of 67.49 Gbps was achieved in the test, effectively amplifying the bandwidth by five times compared to 10G PON. 

The 50G PON test prepares new powerful technologies for the next generation of telecommunication infrastructure in Berlin metropolis, Germany.
Volker Rau, Head of Services & Operations at DNS:NET Internet Service GmbH: "As the largest alternative broadband provider in the Brandenburg region and a driver of fiber optic expansion for rural areas in Germany, we are closely following the latest technical solutions for high-speed access. We proudly announce that we have successfully tested state-of-the-art 50G PON technology in our network in cooperation with ZTE. The results of these tests indicate the future direction of fiber broadband development and will help us improve our customers' user experience. We strive to provide our customers with the fastest, most reliable broadband services. For this reason, we are using XGS-PON technology in our networks, which enables synchronous speeds of up to 10 Gbit/s. And as we celebrate our 25th anniversary this year, we're excited to take the next step forward by upgrading our network to blazing-fast 25G PON technology, offering our customers even faster speeds and greater reliability. With the successful completion of the 50G PON test, DNS:NET has ensured its future viability for expansion in the years to come."
Lin Yang, the General Managing Director of ZTE Deutschland, said, "ZTE has successfully strengthened its presence in the German broadband market over the last few years. ZTE is a long-standing member of Bitkom and VATM. We also joined the BREKO and Buglas associations several years ago to deepen our roots in Germany's broadband community. Additionally, we have significantly increased our brand visibility by participating in events such as Breko Glasfasermesse and Angacom exhibition."
"One of our strategic targets is to expand our broadband business to serve more business and residential customers in Germany. The signing of the cooperation agreement of a strategic partnership with DNS:NET on XGS-PON and 50G PON technologies align perfectly with this strategy. The release of the 50G PON standard has garnered significant industry attention, and the product maturity including the supply chain has become a key focus. ZTE is glad to support DNS:NET in exploring ultra-high bandwidth service scenarios and building the largest fiber network in Berlin metropolis of Germany. With this strategic partnership, ZTE and DNS:NET will work together to deploy cutting-edge technologies, to improve network quality, and to enhance user experience for DNS:NET's customers."
ABOUT DNS:NET:
DNS:NET Internet Service is a specialist in broadband expansion and opening up previously underserved regions with fiber optics. This Berlin/Brandenburg telecommunications company was founded in 1998 and is one of the full-service network operators in Germany with headquarters in Berlin, customer centers in Brandenburg and a branch in Saxony-Anhalt. DNS:NET is the largest alternative broadband provider in Brandenburg. The DNS:NET service portfolio covers the entire spectrum of data center services and IP-based services for business customers, full-service solutions for the real estate industry and high-speed Internet (telephony, Internet and TV connections) for private customers. DNS:NET operates its own fiber optic rings and networks as well as high-security data centers and has been investing in infrastructure expansion in underserved regions, numerous cities and rural areas since 2007. Information about the company at www.dns-net.de
MEDIA INQUIRIES:
Head of Press/Corporate Communications
Email: presse@dns-net.de
Tel: 030-667 65 128
ABOUT ZTE:
ZTE helps to connect the world with continuous innovation for a better future. The company provides innovative technologies and integrated solutions, its portfolio spans all series of wireless, wireline, devices and professional telecommunications services. Serving over a quarter of the global population, ZTE is dedicated to creating a digital and intelligent ecosystem, and enabling connectivity and trust everywhere. ZTE is listed on both the Hong Kong and Shenzhen Stock Exchanges. www.zte.com.cn/global
FOLLOW US:
Facebook  www.facebook.com/ZTECorp
Twitter  www.twitter.com/ZTEPress
LinkedIn  www.linkedin.com/company/zte
YouTube www.youtube.com/@ZTECorporation
MEDIA INQUIRIES:
ZTE Corporation
Communications
Email: ZTE.press.release@zte.com.cn