ZTE and MyRepublic announce the launch of Indonesia's first FTTR solution in joint collaboration
Release Time:2023-06-13
ZTE and MyRepublic have jointly released Indonesia's first FTTR solution at ZTE Day 2023 on May 30
The solution comprises the FTTR master gateway G8605, the industry's first gateway supporting XGS-PON and 2.5G, along with the slave gateway G1611
With data rates of 2,000 Mbit/s and the ability to seamlessly upgrade home network devices, this solution effectively meets the requirements for Internet access, VoIP, and IPTV services simultaneously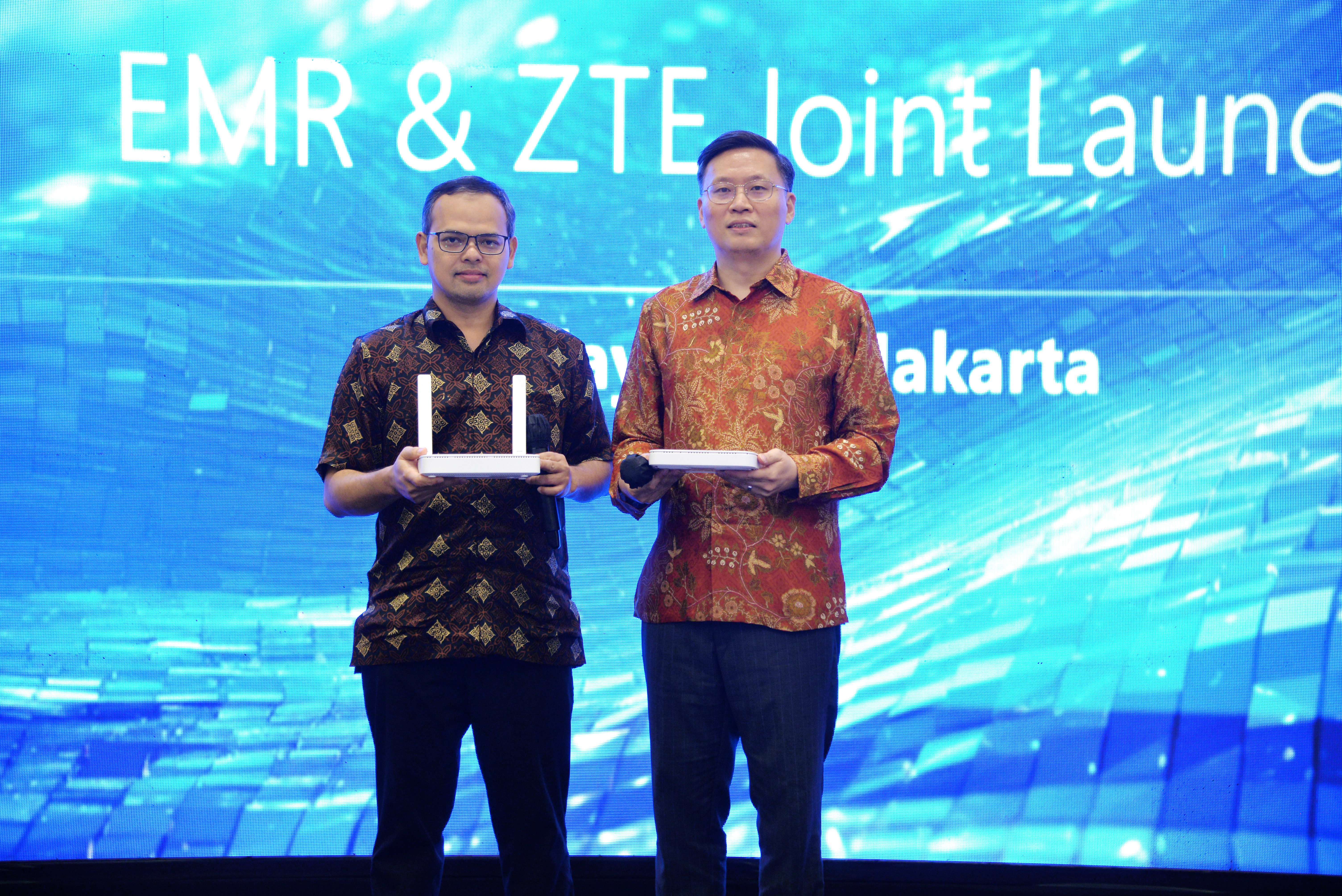 Ki-ka_ Hendra Gunawan, CTO of MyRepublic and Song Shijie, VP of ZTE Corporation
Jakarta, Indonesia, 13 June 2023 - ZTE Corporation (0763.HK / 000063.SZ), a global leading provider of information and communication technology solutions, and the leading multinational internet service provider company MyRepublic, have jointly released Indonesia's first FTTR solution at ZTE Day 2023 on May 30. The solution comprises the FTTR master gateway G8605, the industry's first gateway supporting XGS-PON and 2.5G, along with the slave gateway G1611. With data rates of 2,000 Mbit/s and the ability to seamlessly upgrade home network devices, this solution effectively meets the requirements for Internet access, VoIP, and IPTV services simultaneously.
Hendra Gunawan, the Chief Technology Officer of MyRepublic, expressed that MyRepublic Indonesia is committed to delivering high-quality home networks to its users. He emphasized that combining Wi-Fi 6 technology with FTTR, which offers high speed, low cost, and high stability, can provide an authentic gigabit user experience throughout the home. This makes it an ideal choice and supports MyRepublic in providing a seamless and uninterrupted online experience for all users. MyRepublic and ZTE are also collaborating on the development of DWDM ROADM+ASON technology to establish a new Java backbone. This development aims to enhance the bandwidth of our existing fiber networks, offering a remarkable capacity to support customer demand.
Song Shijie, Vice President of ZTE, expressed that ZTE and MyRepublic have been engaging in a sincere collaboration to drive technical innovation and commercial deployment of FTTR. Their joint efforts aim to fully unlock the value of gigabit optical networks.
As a prominent leader in the fixed network CPEs domain, ZTE has consistently demonstrated its dedication to technological innovations. The company is deeply committed to delivering premium solutions, products, and services to its global customers. With a remarkable milestone of surpassing 500 million units in cumulative global shipments of fixed network CPEs, ZTE has shipped over ten million units to countries including Spain, Brazil, Indonesia, and Egypt.
Moving forward, ZTE will continue to explore advancements in the FTTR field and foster collaboration with industry partners to drive growth and prosperity within the FTTR industry. Together, they aim to shape a new future for smart homes.