ZTE unveils latest technology breakthroughs at "Shaping Digital Innovation 2023" event
Release Time:2023-06-02
ZTE presented the highlights of MWC 2023 to the Malaysian audience at ZTE's  "Shaping Digital Innovation 2023" event
ZTE's "Shaping Digital Innovation" event is a part of the Company's commitment to supporting global digital transformation and Malaysia's ambition to become the Asian Digital Tiger
The workshop provided attendees with a comprehensive overview of ZTE's latest network solutions and smart terminal products, enhancing the experience of digital living
Kuala Lumpur, Malaysia, 2 June 2023 - ZTE Corporation (0763.HK / 000063.SZ), a global leading provider of information and communication technology solutions, has announced the highly anticipated event, "Shaping Digital Innovation 2023", held recently at the Kuala Lumpur, Malaysia.
Building upon the success of its "Shaping Digital Innovation" theme showcased at the recent Mobile World Congress (MWC) 2023 in Barcelona, ZTE has once again captivated the global tech stage. Demonstrating its commitment to innovation, ZTE delighted the Malaysian audience by bringing a glimpse of the MWC 2023 highlights to the event.
ZTE kickstarting the "Shaping Digital Innovation 2023" one-day workshop with the Minister of Communications and Digital and Malaysians Communications and Multimedia Commission
In his keynote address, Fahmi Fadzil, Communications and Digital Minister, expressed his enthusiasm for Malaysia's digital goals and highlighted the significant role that the event would play in this development. He said, "I am optimistic that this workshop will serve as a springboard, propelling us towards realizing our vision of becoming the 'Asian Digital Tiger.' I trust that you will all experience a rewarding and engaging day, filled with insightful speakers and exhibition booths, showcasing cutting-edge innovations by ZTE as we embark on a new digital journey."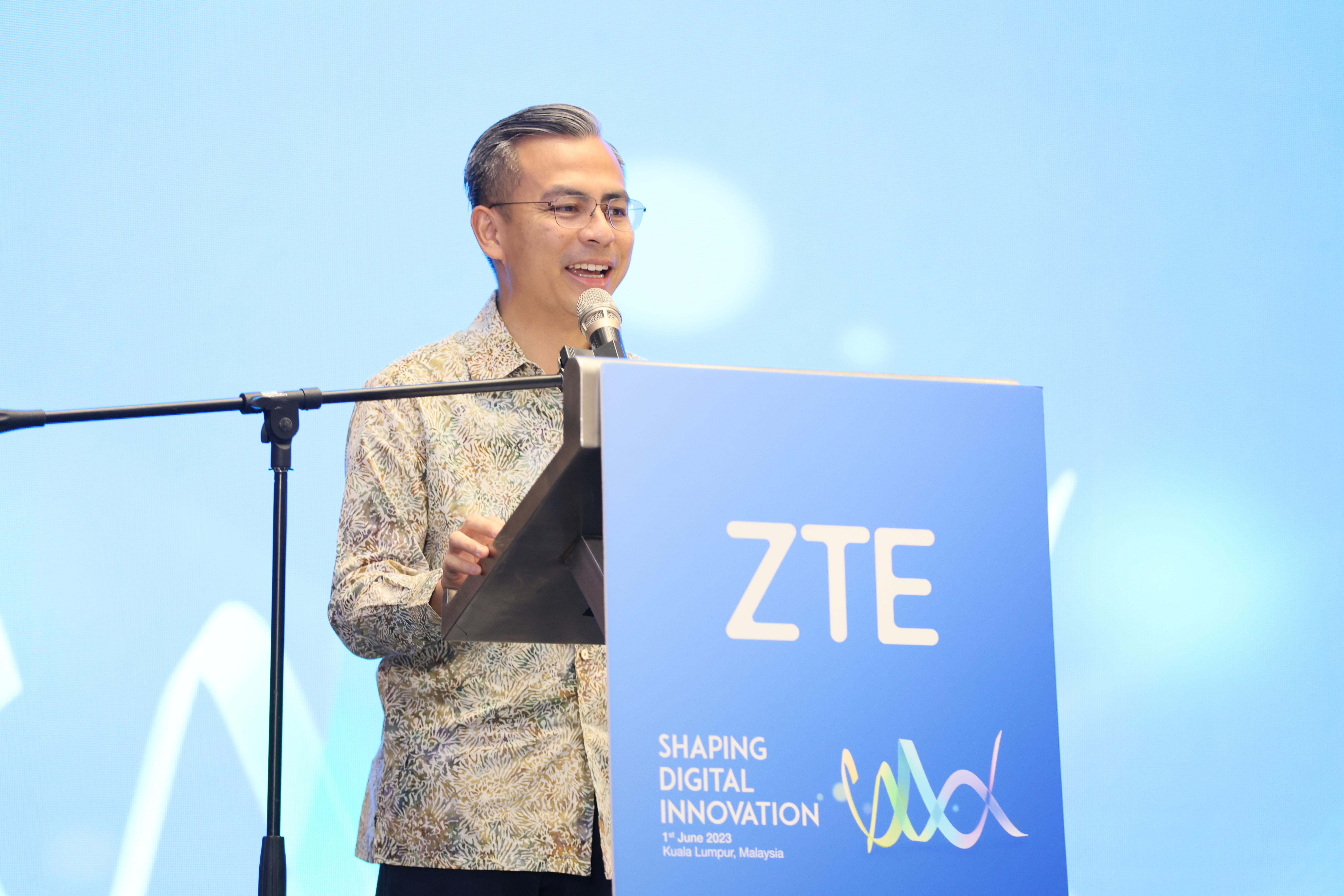 YB Fahmi Fadzil, Malaysia's Minister of Communications and Digital, presenting his keynote address during ZTE's "Shaping Digital Innovation 2023" workshop
Steven Ge, Managing Director of ZTE (Malaysia) Corporation Sdn. Bhd., reiterates this commitment, stating, "ZTE continues to create value through collaborative partnerships in digitalizing Malaysia and bridging the digital divide. We have successfully deployed over 50% of the nationwide JENDELA initiative, extending mobile coverage to rural and remote areas. Additionally, to enhance user experience with faster speeds, we have modernized over 10,000 sites in Malaysia in the past 3 years, resulting in improved network performance, higher throughput, lower latency, and better overall network quality."
ZTE, through collaborative partnerships, has played a crucial role in advancing digitalization across Malaysia, and in doing so, has helped bridge the digital divide. As part of the JENDELA initiative, ZTE has been responsible for deploying over 50% of nationwide projects, extending mobile coverage to remote and rural areas. Furthermore, in an effort to enhance user experiences by providing higher speeds, ZTE has modernized over 10,000 sites in Malaysia during the past three years. This modernization supports higher throughput and reduced latency, significantly boosting network performance and quality."
ZTE's commitment to becoming the "Driver of Digital Economy", which is reinforced by substantial R&D investments, as well as an impressive portfolio of over 85,000 patents worldwide. ZTE remains committed to enriching its core competitive edge, spearheading innovative technological breakthroughs that drive the digital economy and promote sustainable development. 
Through this event, ZTE has extended an invitation to industry and ecosystem partners in Malaysia to collaborate in building a digital and intelligent ecosystem. This includes telecom players, digital infrastructure developers, and government and regulatory bodies such as Axiata, CelcomDigi, Digital Nasional Berhad, EdotCo, Malaysians Communications and Multimedia Commission (MCMC), Maxis, Telekom Malaysia, UMobile, YTL Corp, and other government representatives. Aligned with their business philosophy of "Simplicity, Agility, and Openness for Win-Win", ZTE is determined to serve as the "Driver of Digital Economy" and shape digital innovation through this event.  
During Ge's speech, he also highlighted that ZTE will present the latest industry trend for RAN, transport, cloud core and others with 3 key takeaways from the event – Simplicity, Agility and Cybersecurity.
"Together with our customers and partners, we aim to build a digital and intelligent ecosystem for greater openness and shared success. May this event spark your interest with our latest innovations," Ge said in his concluding remarks.
The event featured cutting-edge technologies that harness the power of both 5G and Artificial Intelligence (AI). Notable highlights included the 5G+AI Piano, a cloud-based application that enables an interactive piano playing experience from any location, and the 5G+AIGC, which combines 5G with AI-generated content for real-time avatar generation in the animation and gaming industries. Additionally, an innovative fusion of  5G and fashion was showcased through the 5G+AI Virtual Clothing Experience.
Steven Ge (first from left), Managing Director of ZTE (Malaysia) Corporation Sdn. Bhd., showcasing the latest ZTE's innovation and advancement in 5G technologies to the Malaysia's Minister of Communications and Digital
Furthermore, ZTE introduced its Unisite Solution, a cutting-edge 5G solution that offers innovative features for multimode site modernization, power consumption reduction, reliable high-speed backhaul links, and ultra-band radio units. The inclusion of Green Bit technology enables sustainable power management, effectively reducing power consumption and operational expenses. Additionally, the NG Core introduces a forward-looking core network solution that prioritizes a user-centric experience, paving the way for enhanced connectivity and network performance.
Facing the boundless future, ZTE showcased its RIS (Reconfigurable Intelligent Surface) solution, a cutting-edge technology in wireless communication. It is an innovative blend of electromagnetic meta-materials and modern wireless communication technology. This state-of-the-art innovation in wireless communication is pivotal for the advancement of 5G-Advanced and 6G networks.
ZTE also presented the latest innovation on cloud transport solution with its ZXR10 M6000-SE product family. Offering 14.4T forwarding capacity, enhanced SRv6, SDN for network programmability and automatic deployment, it surpasses 400G DWDM products in bandwidth and latency. It also reduces power consumption by 30% while improving performance, facilitates rapid service deployment, simplifies network maintenance, and accelerates operators' digital transformation.
Focusing on the needs of basic network construction, ZTE displayed the FTTx Evolution, which presents the first 50G PON&10G GPON&GPON Combo card and a high-speed broadband connectivity solution. Additionally, ZTE presented the FTTR solution, which delivers impressive speeds of up to 1 Gbps or 2 Gbps. Innovative 5G enterprise solutions could also be seen as uSmartNet Autonomous proposes an E2E solution accelerating towards L4 autonomous networks while the ZTE Server Storage offers telecom standard-compliant server storage solutions.
In the realm of digital smart life, the exhibition encompasses a wide range of 5G devices, including Indoor MC888 Pro, Outdoor MC889, and MiFi MU5120. Additionally, the Nubia 3D Pad and Redmagic 8 Pro, are prominently featured, offering diverse capabilities ranging from 3D chat and gaming to seamless streaming experience.
Attendees at the "Shaping Digital Innovation" event can anticipate a comprehensive introduction to ZTE's latest products and solutions for access, transport, and cloud core networks. Additionally, the event showcased the Company's smart terminal products series, empowering a full-scenario digital life.
ZTE's "Shaping Digital Innovation 2023" event showcased the Company's commitment to global digital transformation and its support of Malaysia's digital ambitions. Through the event, ZTE has showcased its innovative and cutting-edge technologies. The Company aims to collaborate with industry and ecosystem partners in Malaysia to be the "Driver of Digital Economy".