ZTE secures the Beacon Program Award at the National Finals of the CSTD Enterprise Learning Program Design Competition
Release Time:2023-04-03
ZTE achieved this recognition thanks to its "On-cloud Learning Program – Digitization and Intelligence Enabling Telecom Engineering Project Delivery"
ZTE attaches great importance to talent training, and the On-cloud Learning Program serves as a representative case of digital-intelligent services empowerment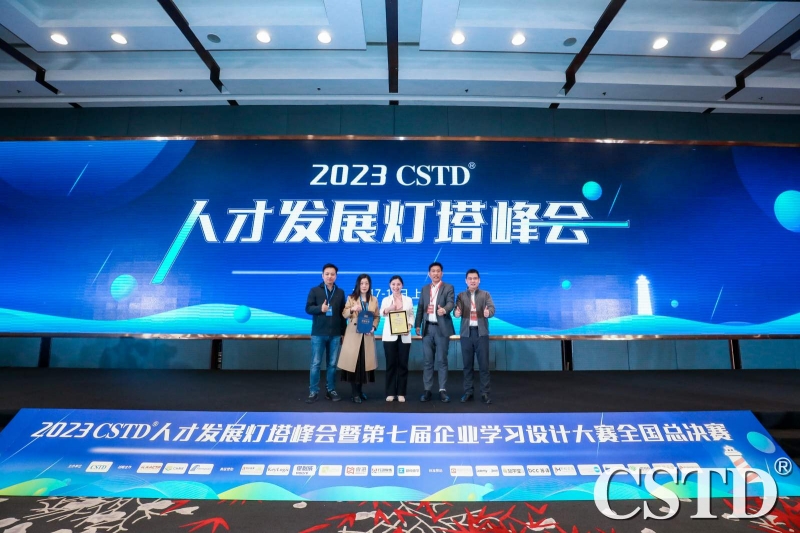 Shenzhen, China, 3 April, 2023 - ZTE Corporation (0763.HK / 000063.SZ), a global leading provider of information and communication technology solutions has secured first place and the prestigious "Learning Design Beacon Program Award" at the National Finals, of 2023 CSTD Talent Development Beacon Summit & The National Finals of the 7th Enterprise Learning Design Competition. The event was held in Shanghai and ZTE achieved this recognition thanks to its "On-cloud Learning Program – Digitization and Intelligence Enabling Telecom Engineering Project Delivery", which outshone 362 programs from 253 enterprises, including the world's top 500 companies in China. ZTE's program earned first place in the digital competition area after successfully competing in the pre-competition, network re-competition, and regional final rounds.
The "Oncloud Learning Program" developed by ZTE Global Services Capability Center(GSCC) is a comprehensive talent training program that combines Digitalization & Intelligence with talent empowerment. The program is based on ZTE's global telecommunication network construction projects and includes a comprehensive digital learning support platform, an empowerment task management and control platform, and a digital project management dashboard. The program adopts an empowering mode centered on "preview, practice, exercise, and operation" to promote the continuous improvement of organizational and personnel capabilities and enable the transformation of digital-intelligent delivery models. After more than two years of practice, the program has achieved impressive results. The on-schedule delivery rate of network project milestones has increased to 100%, the cloud delivery rate has increased to 45%, the on-site independent delivery rate has surpassed 82%, and the proportion of high-skill personnel in overseas premises is higher than 76%. These results have led to continuous improvements in network delivery efficiency and customer satisfaction.
During the Digitization and Intelligence empowerment operation, the "Three Clouds" of the digital learning support platform work together efficiently:
iLearning clarifies the learning path and supports scenario-based preview and tests.
iLab+AOS arranges one-on-one training on the Cloud and collaborates in practice and exercises.
iTech-Cloud carries out online operations based on the scenario-based workflow and identifies the capabilities of "individual-organization-business" based on the operation data.
In terms of project management, global empowerment tasks are managed and controlled through level-4 APs managed by digital empowerment task and digital learning dashboard to ensure the effective achievement of empowerment and delivery tasks. At the same time, based on the workflow, work tasks, work scenarios, and work roles are integrated to create learning experience and performance support throughout the process of "learning, practice, test, and use". This approach enables the precise, realistic, independent, and efficient capacity iteration and common development of individuals and organizations.
ZTE attaches great importance to talent training, and the On-cloud Learning Program serves as a representative case of digital-intelligent services empowerment. The program has been applied to thousands of telecom engineering projects in over 100 countries and regions worldwide. The innovative mode of fully digital-intelligent empowerment moves the empowerment front-line forward to the project business frontline, making the empowerment effect predictable, measurable, and traceable. This approach lays a solid foundation for successful project delivery and customer satisfaction.

Sun Fangping, Senior Vice President of ZTE, said, "In the digital era, the digital-intelligent transformation of each industry is accelerated, and ZTE is both a practitioner and enabler of digital-intelligent transformation. The Beacon lights up the way to learning and development. In the future, ZTE will continuously explore the new value of enterprise talent development, empower different industries based on its innovative technologies and practical achievements, and jointly promote the digital-intelligent development of industries to achieve win-win and high-quality development."
Hosted by the Chinese Society of Talent Development(CSTD), the Talent Development Beacon Summit is dedicated to selecting bench-marking and demonstration programs in terms of learning development ideas, methods, model innovation, and value contribution, and to choosing the most valuable enterprise learning programs. Since 2016, six sessions of the summit have been held, and over 1500 learning programs from more than 500 excellent enterprises have participated. The summit is regarded as one of the most influential events in the enterprise training industry.
ABOUT ZTE:
ZTE helps to connect the world with continuous innovation for a better future. The company provides innovative technologies and integrated solutions, its portfolio spans all series of wireless, wireline, devices and professional telecommunications services. Serving over a quarter of the global population, ZTE is dedicated to creating a digital and intelligent ecosystem, and enabling connectivity and trust everywhere. ZTE is listed on both the Hong Kong and Shenzhen Stock Exchanges. www.zte.com.cn/global
FOLLOW US:
Facebook  www.facebook.com/ZTECorp
Twitter  www.twitter.com/ZTEPress
LinkedIn  www.linkedin.com/company/zte
YouTube  https://www.youtube.com/@ZTECorporation
MEDIA INQUIRIES:
ZTE Corporation
Communications
Email: ZTE.press.release@zte.com.cn