ZTE and AIS collaborate on new server product release, paving the way for digital revolution
Release Time:2023-04-10
The first time that ZTE has publicly released the new server G5 series in the international market
ZTE has released five new servers which boast support for liquid cooling heat dissipation and a range of features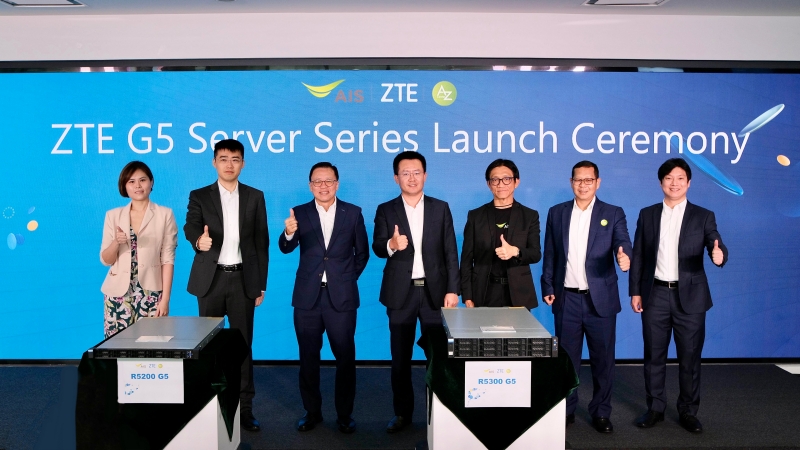 Bangkok, Thailand, 10 April 2023 - ZTE Corporation (0763.HK / 000063.SZ), a global leading provider of information and communication technology solutions and AIS, an industry-leading smart digital network provider in Thailand, have hosted a successful new product release conference for the server G5 series in Thailand. This marks the first time that ZTE has publicly released the new server G5 series in the international market.
During the conference, telecom operators, industry-renowned consulting firms, server industry chain partners, and customers from various industries, including electricity, communications, transportation, finance, healthcare, and port, gathered to discuss the rising demand for computing power in global digital transformation efforts.
During his speech, Wang Quan, VP at ZTE, said, "In the digital economy era, 5G, artificial intelligence, virtual reality, and other digital technologies are rapidly integrating with daily life scenarios, leading to the emergence of new service requirements. To meet these demands, a robust IT infrastructure is necessary, with servers serving as the backbone of IT technology facilities. As a result, servers have become the 'lifeline' of the digital society."
Avis Hong, Associate Research Director at IDC concurs with the following opinion: "Against the backdrop of constant disruption and economic uncertainty, digital infrastructure is critical to drive digital enterprises' revenue. Increased reliance on infrastructure to support more than traditional business application is key for digital transformation in this century."
Dennis Iun, Intel NEX Asia Ecosystem Development Marketing Director, said: "Digitalization has become the driving force for the world transformation and has also brought unprecedented opportunities to the entire technology industry. As a response, in early 2023, Intel officially released Intel 4th generation of Xeon scalable processors, together with ecosystem partners."
Liu Zhenhai, the Overseas Marketing Director of Server Products at ZTE, said: "ZTE has made extensive efforts in the server field since 2005. ZTE has a full range of servers and storage products, including general servers, GPU servers, liquid cooling servers, all-flash storage products, mixed-flash storage products, and distributed disk array products."
"To date, ZTE's server and storage products have been deployed in more than 40 countries and regions, covering communications, Internet, finance, power, government affairs, transportation, and other industries," added Mr. Liu.
For this time, ZTE has released five new servers, including the 5200 G5 high-density server, 5300 G5 full-scenario universal server, 5500 G5 mass storage server, 6500 G5 heterogeneous computing power server, and 8500 G5 high-performance server. Each server in the G5 series boasts support for liquid cooling heat dissipation and a range of features, such as high-density computing power, flexible expansion, heterogeneous computing power, mass storage, and stability & reliability.
As a player in the digital world, ZTE is committed to technological innovation. Moving forward, the company will strive to make consistent advancements based on customer requirements, expecting to provide solid support and driving force to facilitate global digital transformation.
ABOUT ZTE:
ZTE helps to connect the world with continuous innovation for a better future. The company provides innovative technologies and integrated solutions, its portfolio spans all series of wireless, wireline, devices and professional telecommunications services. Serving over a quarter of the global population, ZTE is dedicated to creating a digital and intelligent ecosystem, and enabling connectivity and trust everywhere. ZTE is listed on both the Hong Kong and Shenzhen Stock Exchanges. www.zte.com.cn/global
FOLLOW US:
Facebook  www.facebook.com/ZTECorp
Twitter  www.twitter.com/ZTEPress
LinkedIn  www.linkedin.com/company/zte
YouTube  www.youtube.com/@ZTECorporation
MEDIA INQUIRIES:
ZTE Corporation
Communications
Email: ZTE.press.release@zte.com.cn