ZTE releases White Paper on Video-Oriented Autonomous Network
Release Time:2023-03-30
Focusing on intelligent digital transformation of video networks
Proposes an autonomous network system and an evolution architecture focused on improving video quality
Aims to address the challenges that come with the operation and maintenance (O&M) of video services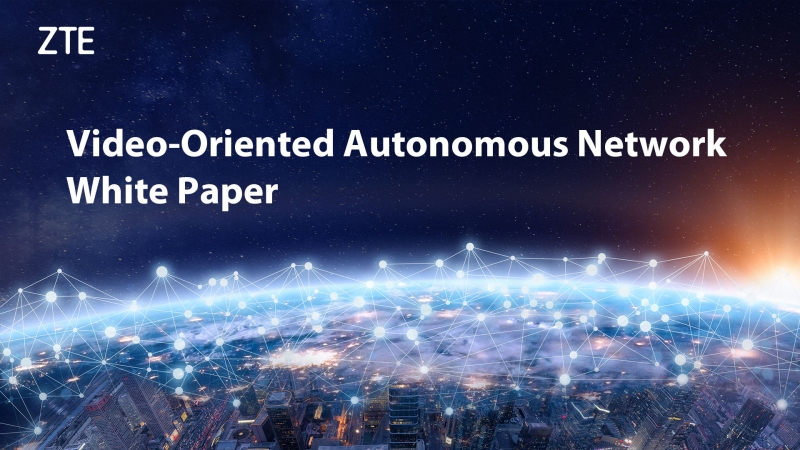 Shenzhen, China, 30 March 2023 - ZTE Corporation (0763.HK / 000063.SZ), a global leading provider of information and communication technology solutions has released its White Paper on Video-Oriented Autonomous Networks. This white paper aims to address the challenges that come with the operation and maintenance (O&M) of video services. It proposes an autonomous network system and an evolution architecture focused on improving video quality. This transformation from complicated video network O&M to an autonomous network is of great significance.
Operators have long been grappling with the challenge of implementing autonomous management of video networks under high concurrency and addressing network problems in a timely manner to provide a high-quality video experience. When it comes to video service O&M, operators face three major challenges.
The first challenge is delivering higher video quality, which is essential for both innovative services and users. The second challenge is achieving greater O&M efficiency. The traditional O&M that relies solely on human intervention can no longer meet the growing demands for efficiency. Therefore, new technologies and techniques are needed to improve this efficiency.
The third challenge is reducing O&M cost. There are numerous automation breakpoints in the O&M process, which require human intervention, and the O&M cost tends to increase incrementally year-over-year.
According to the white paper, a video-oriented autonomous network should possess the following application features: flexible load balancing, precise content operation, and end-to-end cross-domain collaboration. This solution has been put into practice in several cases, enabling operators to automatically predict specific faults, locate video faults, and respond to them. For operator's video O&M, this represents a valuable source of reference.
As digital transformation becomes increasingly prevalent, the autonomous network is emerging as a significant evolutionary trend. Moving forward, ZTE will maintain close partnerships with operators to enhance the construction of video-oriented autonomous networks, expand application scenarios and scale, and drive the intelligent digital transformation of video networks.
For the full white paper, please refer to the attached link below:
https://www.zte.com.cn/content/dam/zte-site/res-www-zte-com-cn/mediares/pdf/Video_Oriented_Autonomous_Network_White_Paper.pdf
ABOUT ZTE:
ZTE helps to connect the world with continuous innovation for a better future. The company provides innovative technologies and integrated solutions, its portfolio spans all series of wireless, wireline, devices and professional telecommunications services. Serving over a quarter of the global population, ZTE is dedicated to creating a digital and intelligent ecosystem, and enabling connectivity and trust everywhere. ZTE is listed on both the Hong Kong and Shenzhen Stock Exchanges. www.zte.com.cn/global
FOLLOW US:
Facebook  www.facebook.com/ZTECorp
Twitter  www.twitter.com/ZTEPress
LinkedIn  www.linkedin.com/company/zte
MEDIA INQUIRIES:
ZTE Corporation
Communications
Email: ZTE.press.release@zte.com.cn