ZTE ranks No. 1 for both PON CPE and DSL CPE shipments
Release Time:2023-03-09
● ZTE held 32.8% of the Passive Optical Network (PON) Customer Premises Equipment (CPE) in 2022
● ZTE held 22.6% of the Digital Subscriber Line (DSL) CPE shipments globally in 2022
● ZTE has shipped more than 500 million CPE devices worldwide
Shenzhen, China, 9 March 2023 - ZTE Corporation (0763.HK / 000063.SZ), a global leading provider of information and communication technology solutions, today announced that it has been ranked No. 1 for both PON CPE and DSL CPE shipments globally in 2022 by research firm Dell'Oro Group. 
According to the Dell'Oro 4Q 2022 Broadband Access & Home Networking Report, ZTE held 32.8% of the Passive Optical Network (PON) Customer Premises Equipment (CPE) and 22.6% of the Digital Subscriber Line (DSL) CPE shipments globally in 2022.
Accumulatively, ZTE has shipped more than 500 million CPE devices worldwide, with shipments to major markets like Spain, Brazil, Indonesia and Egypt exceeding 10 million per country.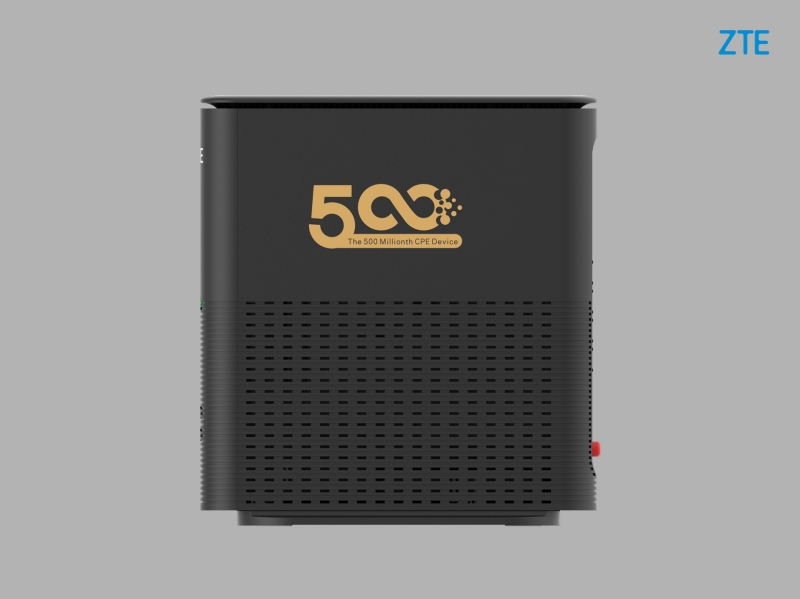 As a leader in the CPE field, ZTE has been strengthening technological innovations, and has launched innovative products including the industry's first 50G PON+Wi-Fi 7 Optical Network Unit (ONU) and the world's first Wi-Fi 7 10-Gigabit-capable Symmetric Passive Optical Network (XGS-PON) Optical Network Terminal (ONT). The 50G PON+Wi-Fi 7 ONU has completed testings in countries like Thailand, Turkey and Italy, and ZTE's Wi-Fi 6E ONT, the ZXHN F8648Q, has been deployed on scale in Japan.
The innovative Fiber To The Room (FTTR) solution of ZTE has been deployed in France, Thailand, Indonesia and other countries to provide users with a real-gigabit and full-coverage home connectivity experience. ZTE's Smart Cloud Platform (SCP), a home network management platform based on Cloud Wi-Fi technology, is also achieving commercial deployments.
Bolstered with powerful capabilities in SCP, including visual Operation and Maintenance (O&M), network diagnosis, and intelligent network optimization, ZTE has helped operators boost O&M efficiencies and reduce O&M costs. Based on metrics such as the product category, functionality and environment, ZTE distills product design into three concepts: expressing the internal functions of the product with a novel appearance, rendering a home-friendly new look to the product, and blending the product into its surroundings in a new manner. The company's great dedication to personalized products has enabled it to win prestigious design accolades including the iF, Red Dot, G-Mark, and IDEA awards.
Moving forward, ZTE will continue bolstering foundational capabilities in the fixed broadband field, expecting to develop more innovative technologies, solutions, products and services to help operators across the globe achieve business success.
ABOUT ZTE:
ZTE helps to connect the world with continuous innovation for a better future. The company provides innovative technologies and integrated solutions, its portfolio spans all series of wireless, wireline, devices and professional telecommunications services. Serving over a quarter of the global population, ZTE is dedicated to creating a digital and intelligent ecosystem, and enabling connectivity and trust everywhere. ZTE is listed on both the Hong Kong and Shenzhen Stock Exchanges. www.zte.com.cn/global
FOLLOW US:
Facebook  www.facebook.com/ZTECorp
Twitter  www.twitter.com/ZTEPress
LinkedIn  www.linkedin.com/company/zte
MEDIA INQUIRIES:
ZTE Corporation
Communications
Email: ZTE.press.release@zte.com.cn