ZTE sees double increases in operating revenue and profit in 2022
Release Time:2023-03-10
● Stable growth achieved at the solid start of the Company's expansion phase
● The operating revenue reaching RMB 122.95 billion in 2022, 7.4% higher than a year earlier
● The profit hitting RMB 8.08 billion in 2022, levelling up its profitability steadily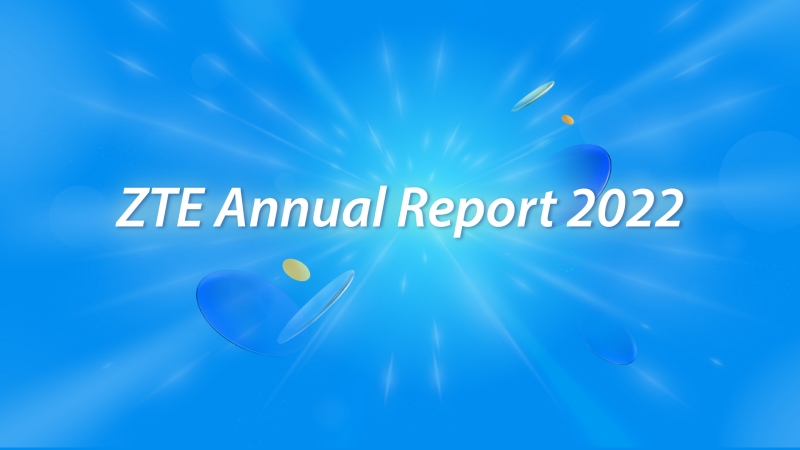 Shenzhen, China, 10 March 2023 - ZTE Corporation (0763.HK / 000063.SZ), a global leading provider of information and communication technology solutions, today has reported a full-year operating revenue of RMB 122.95 billion in 2022, 7.4% higher than a year earlier. 
According to ZTE's released Annual Report 2022 today, the net profit attributable to holders of ordinary shares of the listed company reached RMB 8.08 billion, up 18.6% year-over-year. The net profit after extraordinary items attributable to holders of ordinary shares of the listed company for 2022 amounted to RMB 6.17 billion, representing a year-on-year rise of 86.5%.
The year 2022 marked the start of the Company's expansion phase. During the year, the Company, although confronted with great challenges from uncertain complex macro environment, kept solidifying its position with innovative initiatives while maintaining steady operations. With the business philosophy of maintaining quality growth, during the period, ZTE seized the trend towards global digitalization and decarbonization development, strengthened its DICT's full-stack and full-domain R&D investment and innovation, and continuously improved the competitiveness of the Company's key technologies and products. In 2022, the Company invested RMB 21.60 billion into R&D annually, covering 17.6% of the revenue. At the same time, ZTE continues to deepen the digital and intelligent transformation, improve the organizational flexibility, elasticity and resilience, and ensure the orderly, efficient and healthy development for all businesses.
In 2022, operating revenue in both the domestic and international markets, and operating revenue in the Company's three major businesses including carriers' networks, government and enterprise business, as well as consumer business, all achieved a year-on-year growth. Operating revenue of domestic market reaching RMB 85.24 billion, 69.3% of its overall operating revenue while the operating revenue from international market hitting RMB 37.71 billion, covering 30.7% of its overall operating revenue.
For carriers' networks, in 2022, the Company harvested an annual operating revenue of RMB 80.04 billion, a year-over-year rise of 5.7%. During the period, ZTE continued to increase the global market share of key products such as wireless networks and wired networks. According to the latest report, in 2022, the Company's annual shipments of 5G base stations, 5G core networks and 200G coherent port all ranked second in the world, the revenue of POL OLT increased to second globally.
For government and corporate business, ZTE achieved an operating revenue of RMB 14.63 billion, a year-on-year growth 11.8%. ZTE's core products such as server and storage, GoldenDB distributed databases, and cloud computers, have achieved rapid growth in the number of top customers across the industries including finance and Internet. In addition, ZTE, centering on the business needs of business resilience, systematic growth and cost reduction, and relying on efficient digital infrastructure and the "Digital Nebula" based on the cloud-native transaction architecture, has been deeply integrating ICT technologies with the industries to explore the digital transformation of finance, Internet, power, transportation, and large enterprises.
In terms of consumer business, ZTE generated an operating revenue of RMB 28.28 billion, a year-on-year increase 9.9% during the period. The Company has gradually integrated mobile phones, mobile Internet products, home information terminals, and ecological capabilities to provide individuals and families with a rich selection of smart products. In 2022, ZTE, Nubia, and Red Magic launched a variety of mobile phones to meet different market demands. Meanwhile, ZTE's mobile Internet product 5G MBB & FWA remained the world's first in terms of global shipment. During the period, the Company's home information terminals witnessed a leapfrog growth, with its PON CPE and DSL CPE shipments ranked first globally and its STB remained in the leading position in terms of the market share.
Moving forward, despite the complex external environment, ZTE will stay committed to implementing the positioning of a "Driver of Digital Economy" by maintaining its strategic determination and grasping the development trend of digitalization and decarbonization. With targeted and pragmatic efforts, the Company will further strengthen its operational resilience, with an aim to improve operational efficiency and achieve steady growth.
ABOUT ZTE:
ZTE helps to connect the world with continuous innovation for a better future. The company provides innovative technologies and integrated solutions, its portfolio spans all series of wireless, wireline, devices and professional telecommunications services. Serving over a quarter of the global population, ZTE is dedicated to creating a digital and intelligent ecosystem, and enabling connectivity and trust everywhere. ZTE is listed on both the Hong Kong and Shenzhen Stock Exchanges. www.zte.com.cn/global
FOLLOW US:
Facebook  www.facebook.com/ZTECorp
Twitter  www.twitter.com/ZTEPress
LinkedIn  www.linkedin.com/company/zte
MEDIA INQUIRIES:
ZTE Corporation
Communications
Email: ZTE.press.release@zte.com.cn