ZTE at BBF: New technologies drive new connections and enhance user experiences
Release Time:2023-04-19
Combining the same generation of PON and Wi-Fi technologies can offer end-to-end wireline and wireless high-speed network connections
The PON OLT platform should have the smooth upgrade capability to extend the use time of the equipment in the network and save the upgrade costs of operators

ZTE provides the best last-kilometer wireline access solution for the global digital transformation, with a vision of ultra-fast, deterministic, open, agile and intelligent networks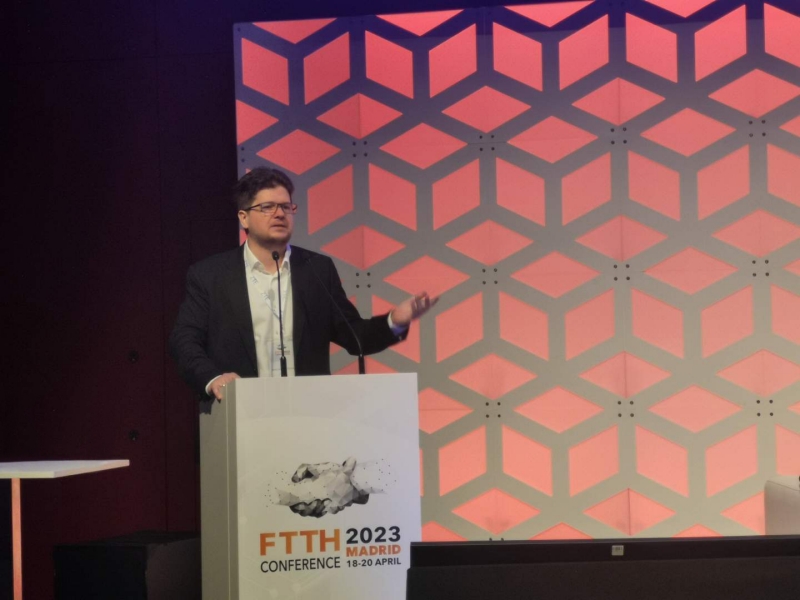 Madrid, Spain, April 19 2023 - ZTE Corporation (0763.HK / 000063.SZ), a global leading provider of information and communication technology solutions, announced today that Hans Neff, Senior Director of ZTE CTO Team, has shared in-depth insights on how to adopt new technologies to improve FTTx user experiences and help operators gain competitive advantages at a seminar titled "How to Build a Service Platform on the Existing Optical Network to Increase Revenues" for the Broadband Forum (BBF) at the FTTH Conference in Madrid on April 18-20, 2023.
With the theme of "New Technologies Drive New Connections and Enhance User Experience", Hans Neff believes that combining the same generation of PON and Wi-Fi technologies can offer end-to-end wireline and wireless high-speed network connections, such as GPON + Wi-Fi 5, 10G PON + Wi-Fi 6, and 50G PON + Wi-Fi 7. The 10G PON is now being deployed on a large scale worldwide, and CAPEX will continue to drop as the shipment increases. It is estimated that the next 3-5 years will be the golden time window for the large-scale deployment of the 10G PON. The 50G PON standards have been released, and commercial capabilities are expected to be available in 2025. The 50G PON has advantages such as five times more bandwidth and lower latency and jitter than the 10G PON, and can provide more accurate bandwidth, latency and jitter to better deploy experience-sensitive services. 
According to Hans Neff, the PON OLT platform should have the smooth upgrade capability to extend the use time of the equipment in the network and save the upgrade costs of operators, oriented to the continuous evolution and upgrade of the optical broadband network. ZTE introduced the first three-mode Combo PON solution, which enables access and smooth evolution of three generations of technologies (GPON, 10G PON, and 50G PON) through a 50G PON Combo interface and a main optical fiber. In the early stage, the operators complete construction of central offices in one step, and GPON, 10G PON and 50G PON ONU are flexibly deployed as needed. In the subsequent upgrade, only the terminals need to be upgraded on demand, without changing the central offices.
In terms of the evolution of FTTx networks, Hans Neff proposes the concept of open PON. Through standard NetConf/YANG and Telemetry interfaces, OLTs can be smoothly connected to the SDN controller for their openness, disaggregation and evolution towards the microservices. Virtualized software modules can be deployed locally or on the cloud, and disaggregated ONUs can be managed through the vOMCI.
In the scenarios of families and small/medium-sized enterprises (SME), Hans Neff believes that the development of FTTR is a general trend. The optical network is deployed in each room and enables beyond-gigabit optical broadband and Wi-Fi wireless coverage to deliver ultimate access experiences. One-step fiber deployment can address the demands for 20-30 years. The FTTR solution can efficiently build an internal network for families and enterprises to help operators expand brand-new broadband networking services and business models as well as tapping into the potential market of smart homes and SMEs. 
BBF focuses on accelerating technological innovation, ecological development and network evolution in the broadband field. It actively promotes multi-service access from the aspects of network architecture, device and service management, software data model, inter-working standards and industry certification.
ZTE is an active participant and builder of BBF, following the principle of openness and cooperation. ZTE conducts in-depth research on new technologies such as 50G PON, OLT virtualization and FTTR, based on the needs of access technology development and evolution, new service support and investment protection. ZTE provides the best last-kilometer wireline access solution for the global digital transformation, with a vision of ultra-fast, deterministic, open, agile and intelligent networks.
ABOUT ZTE:
ZTE helps to connect the world with continuous innovation for a better future. The company provides innovative technologies and integrated solutions, its portfolio spans all series of wireless, wireline, devices and professional telecommunications services. Serving over a quarter of the global population, ZTE is dedicated to creating a digital and intelligent ecosystem, and enabling connectivity and trust everywhere. ZTE is listed on both the Hong Kong and Shenzhen Stock Exchanges. www.zte.com.cn/global
FOLLOW US:
Facebook  www.facebook.com/ZTECorp
Twitter  www.twitter.com/ZTEPress
LinkedIn  www.linkedin.com/company/zte
YouTube  https://www.youtube.com/@ZTECorporation
MEDIA INQUIRIES:
ZTE Corporation
Communications
Email: ZTE.press.release@zte.com.cn