ZTE showcases end-to-end all-optical products and solutions at FTTH Conference 2023
Release Time:2023-04-19
• 50G PON Combo supports smooth evolution of three generations of PON technology: GPON, XG(S)-PON and 50G PON
• Light ODN features pre-termination, no-splicing and plug-and-play
• Connect Home features 10G PON, Wi-Fi 7, Mesh Wi-Fi&FTTR, and SCP mgmt. platform for gigabit+ experience
• Diversified multimedia terminals feature better connection, eco-system, and user experiences for extending video services
• E2E all-optical solution empowers optical networks evolution towards 200G/400G
• Metro routers serve 1.5 billion people with all-scenario CLOUD IP solution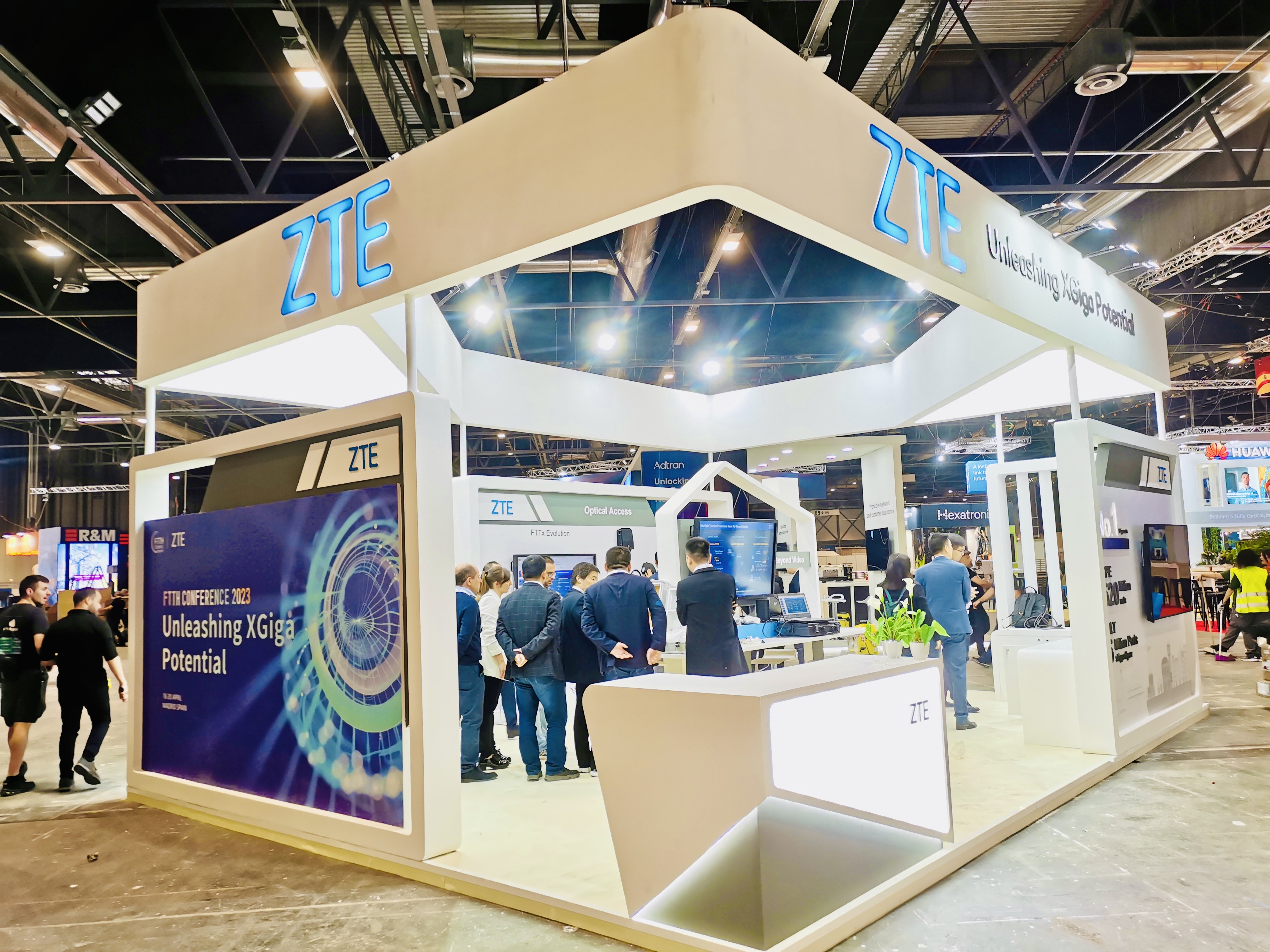 Madrid, Spain, April 19 2023 - ZTE Corporation (0763.HK / 000063.SZ), a global leading provider of information and communication technology solutions has successfully participated in the FTTH Conference 2023 in Madrid, Spain. The conference brought together decision-makers, thought leaders, corporate executives, and investors from the optical communication field, including representatives from telecom operators and equipment vendors around the world. The attendees shared their experiences and insights in FTTH network deployment and explored the future of FTTH in the 5G era. ZTE takes the lead in 10G PON in terms of global market share, and has ranked No. 1 for 10G PON shipments globally in Q4 2022, according to the latest research by Dell'Oro Group.
At the conference, ZTE showcased its 50G PON&10G GPON&GPON three-mode Combo PON solution, which features an independent wavelength stacking mechanism to support three generations of PON technologies (GPON, 10G PON, and 50G PON). Meanwhile, the solution shares the same ODN and the same platform, solves the problems such as high construction costs, large room space occupation in central offices, complex optical fiber cabling, and difficult O&M during the evolution from GPON to 10G GPON and then to 50G PON, and helps operators rapidly and flexibly provision high-bandwidth services, thereby simplifying network construction and reducing deployment costs. It inherits and develops the Combo PON concept and is an innovative solution in the smooth evolution from GPON to 50G PON. 
To meet the demands of ODN constructions in Europe, ZTE has demonstrated its Light ODN solution, which reflects the concept of pre-termination, no-splicing, plug-and-play with tangible objects, and visible ODN. This solution reduces the labor cost of lightweight construction by 30% and improves the construction efficiency by 50%, effectively solving the problems of high labor cost and engineering difficulty in constructing optical fibers. It also makes the ODN network visible and manageable, and significantly lowers OpEx. 
To tackle the issue of poor Wi-Fi signal coverage inside the home and frequent customer complaints, ZTE has presented its innovative connected home solution, which includes 10G PON, Wi-Fi 7, Mesh Wi-Fi&FTTR, and SCP management platform. ZTE considers connectivity as the foundation of home networks by delivering increased bandwidth and enhanced coverage to provide the ultimate whole-home gigabit-plus experience. 
ZTE also showcased its end-to-end all-optical solution that helps operators evolve their optical networks towards 200G/400G. For 200G Access OTN, ZTE provides the 5-in-1 device with the largest switching capacity of 2.8T for 4G/5G/FBB/enterprise/edge DC scenarios. For 400G Metro OTN, ZTE delivers a real 400G solution that allows the leading fiber capacity of 96T by C6T+L6T spectrum width. For 400G Backbone OTN, ZTE has achieved a 2,808km transmission distance in the commercial network and verified an extreme 5,616km transmission distance with 400G QPSK.
In addition, ZTE presented its all-scenario and high-performance end-to-end CLOUD IP solution, based on which ZTE's Metro routers have provided services for 1.5 billion people around the world and assisted operators in tapping into network potential and exploring new applications with 400GE interfaces, end-to-end SRv6 programmability and intelligent delivery. 
End users demand more than high bandwidth - they also demand a superior experience. To satisfy this demand, ZTE has presented a big video solution during the conference to help operators improve their video service capability and operational efficiency. ZTE's diversified multimedia terminals feature better connection, eco-system and user experiences, assisting operators to succeed in video services. 
As operators transform their networks into (Cable-DSL-FTTH) networks, ZTE provides a full-system multi-connection DVB Zapper-Hybrid-IPTV/OTT-Combo STB solution to meet operators' different requirements for service transformation. 
Also, ATV and RDK STBs are equipped to enrich video content and ecology, and integrate ATVs, Netflix, Amazon prime video and Disney+. Since 2021, ZTE has ranked No. 1 in the number of newly activated ATV users. 
ZTE's innovative terminals, with full interaction (voice and touch screen) and 8K STBs, provide a more convenient and intelligent video experience. The Company is the industry's first to enter into the smart home field, achieving value-added innovation. 
ZTE ranks No. 1 for both PON CPE and DSL CPE shipments in 2022 globally, according to the latest report Broadband Access & Home Networking Quarterly Report Q4 2022 by Dell'Oro Group.
With its products and services deployed in more than 160 countries, ZTE will further pursue technological innovation. Together with industry partners, the Company is committed to satisfying the core requirements of operators and end users by providing best-in-class broadband connectivity.
ABOUT ZTE:
ZTE helps to connect the world with continuous innovation for a better future. The company provides innovative technologies and integrated solutions, its portfolio spans all series of wireless, wireline, devices and professional telecommunications services. Serving over a quarter of the global population, ZTE is dedicated to creating a digital and intelligent ecosystem, and enabling connectivity and trust everywhere. ZTE is listed on both the Hong Kong and Shenzhen Stock Exchanges. www.zte.com.cn/global