China Mobile and ZTE jointly demonstrate VoNR+ Banking Intelligent Customer Services at MWC 2023
Release Time:2023-03-03
● Enabling third parties to realize customized development and create a new 5G characteristic application ecosystem
● To bring an all-round upgrade to real-time communication by upgrading audio and video to HD, trustworthy and interactive real-time communication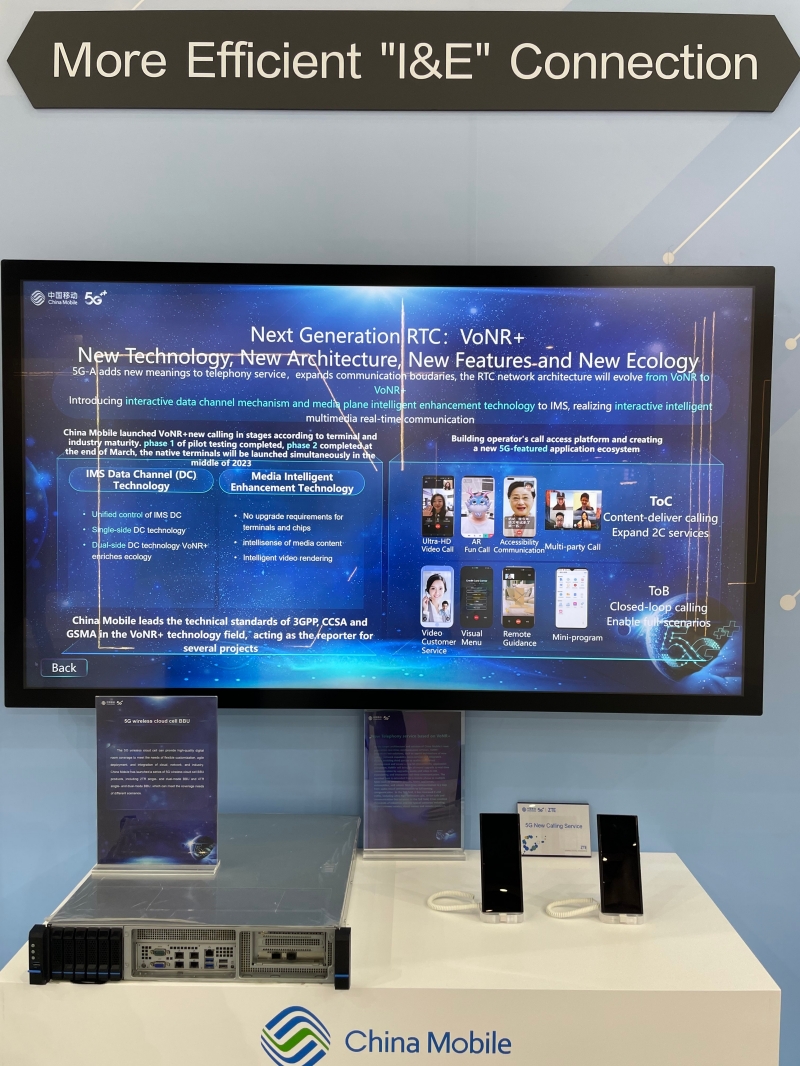 Barcelona, Spain, 3 March 2023 - ZTE Corporation (0763.HK / 000063.SZ), a global leading provider of information and communication technology solutions, in partnership with China Mobile, has jointly demonstrated the intelligent customer services of VoNR+ remote banking at Mobile World Congress (MWC) 2023 in Barcelona, Spain. The in-depth integration of VoNR+ technologies with banking services can bring various interactive, visual and intelligent innovative service experiences to banking customers.
As the target architecture and solution of China Mobile's next-generation real-time communication services, VoNR+ introduces key solutions such as applet architecture of new calling, network capability micro-service and integrated media, enabling third parties to realize customized development and create a new 5G characteristic application ecosystem.
VoNR+ will bring an all-round upgrade to real-time communication by upgrading audio and video to HD, trustworthy and interactive real-time communication. The terminals type is extended from a mobile phone to multiple types such as wearable devices, home appliances, automobiles, and robots. Real-time communication is a leap from audio-visual communication to full-sensing communication. In the ToC field, it has increased C-end traffic, including ultra-high-definition calls, AI fun calls and communication-free services. In the ToB field, it has enabled thousands of industries and typical scenarios including video customer service, visual menus, and remote guidance.
At MWC 2023, China Mobile and ZTE have jointly demonstrated the intelligent banking customer services through VoNR+, integrating innovative services such as enterprise business card, visual menu, screen sharing, remote guidance, electronic whiteboard, and content sharing, with banking business processes. End-users and bank customer service personnel can interact various multimedia information in real time during the entire call process, so that the communication process can be multidimensional. During a call process, various banking services such as "reporting a lost card", "checking the balance " and "investment service" can be performed visually and conveniently. Various identity authentication methods during the process of banking service handling, such as fingerprint authentication, dynamic facial verification, and signature confirmation, can be implemented during the intelligent bank customer services of VoNR+, comprehensively promoting the overall personal service experience and greatly improving the efficiency of bank service processing.
Moving forward, with the introduction of more AI and AR/VR technologies, VoNR+ will evolve from infrastructure communications to holographic communications, providing more intelligent and immersive interactive sensory experiences for individuals, and extending scenarios to broader industry applications such as distance education and telemedicine.
For more information, please visit ZTE booth (3F30, Hall 3, Fira Gran Via) at Mobile World Congress 2023, or explore: https://www.zte.com.cn/global/about/exhibition/mwc23.html
ABOUT ZTE:
ZTE helps to connect the world with continuous innovation for a better future. The company provides innovative technologies and integrated solutions, its portfolio spans all series of wireless, wireline, devices and professional telecommunications services. Serving over a quarter of the global population, ZTE is dedicated to creating a digital and intelligent ecosystem, and enabling connectivity and trust everywhere. ZTE is listed on both the Hong Kong and Shenzhen Stock Exchanges. www.zte.com.cn/global
FOLLOW US:
Facebook  www.facebook.com/ZTECorp
Twitter  www.twitter.com/ZTEPress
LinkedIn  www.linkedin.com/company/zte
MEDIA INQUIRIES:
ZTE Corporation
Communications
Email: ZTE.press.release@zte.com.cn