ZTE releases Green 5GC White Paper to promote low-carbon and sustainable development in the industry
Release Time:2023-03-02
● The White Paper to help operators build green networks and empower low-carbon transformation in thousands of industries
● The White Paper to analyze the key factors that affect the green transformation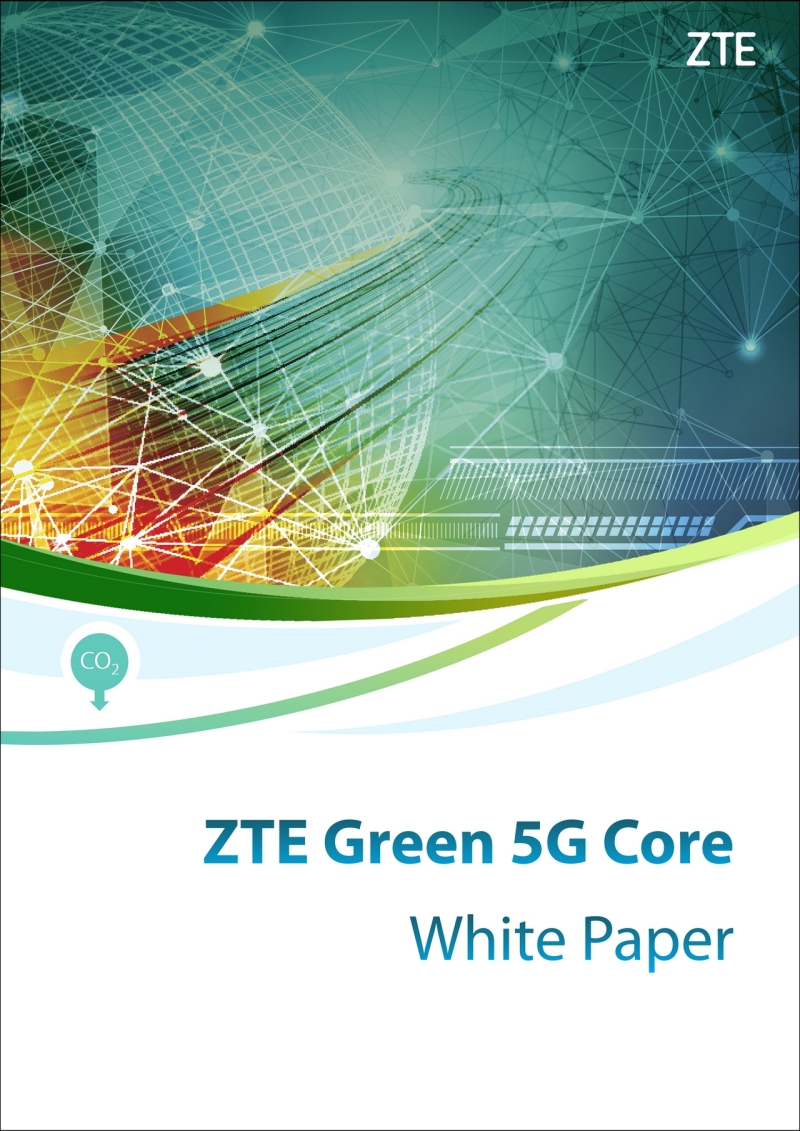 Barcelona, Spain, 2 March 2023 - ZTE Corporation (0763.HK / 000063.SZ), a global leading provider of information and communication technology solutions today announced that it has, based on the accumulation of its research and experience in energy saving and consumption reduction technologies of networks, released the Green 5GC White Paper to help operators build green networks and empower low-carbon transformation in thousands of industries.
With "low-carbon" becoming a new trend for sustainable development of the global economy, digitalization and technological innovation undertakes the new mission of low-carbon transformation in all industries. The rapid development of ICT technologies represented by 5G provides new ideas and methods for reaching the carbon peak and carbon neutralization goals. 
As the core brain of 5G network, core network has been facing challenges of energy conservation and emission reduction. It needs to act as the core brain and collaborate with other domains of the network to achieve end-to-end energy saving and consumption reduction.
This white paper analyzes the key factors that affect the green transformation of the core network, identifies the direction and objectives of the transformation, describes the crucial energy-saving and efficiency-improving technologies and benefits at all levels such as infrastructure, network elements, and O&M.
Also, the white paper focuses on industry practice cases to provide theoretical support and reference for telecom operators and industries for building green networks, and promote the research and innovation of network energy-saving technologies. At MWC 2023, ZTE has showcased its Turbo Core Solution and four types of function accelerator cards (FAC) to improve the resource efficiency of green 5GC and maximize energy efficiency per watt.
ZTE adheres to the green and low-carbon development concept, continuously strengthens the research and application practices of energy saving, efficiency improvement, and empowerment technologies.
Moving forward, ZTE will keep working with partners to build a "green ICT base" to contribute to the "low-carbon future".
For the full version of Green 5GC White Paper, please download via the link below:
https://www.zte.com.cn/content/dam/zte-site/res-www-zte-com-cn/white_paper/ZTE_Green_5G_Core_White_Paper_EN1.pdf
For more information, please visit ZTE booth (3F30, Hall 3, Fira Gran Via) at Mobile World Congress 2023, or explore:
https://www.zte.com.cn/global/about/exhibition/mwc23.html  
ABOUT ZTE:
ZTE helps to connect the world with continuous innovation for a better future. The company provides innovative technologies and integrated solutions, its portfolio spans all series of wireless, wireline, devices and professional telecommunications services. Serving over a quarter of the global population, ZTE is dedicated to creating a digital and intelligent ecosystem, and enabling connectivity and trust everywhere. ZTE is listed on both the Hong Kong and Shenzhen Stock Exchanges. www.zte.com.cn/global
FOLLOW US:
Facebook  www.facebook.com/ZTECorp
Twitter  www.twitter.com/ZTEPress
LinkedIn  www.linkedin.com/company/zte
MEDIA INQUIRIES:
ZTE Corporation
Communications
Email: ZTE.press.release@zte.com.cn