ZTE launches Dynamic RIS solution at MWC 2023, enhancing commercial capabilities
Release Time:2023-03-02
● Dynamic beam tracking coordinated by base station
● Superior performance with cost efficiency
● Adaptable to various deployment environments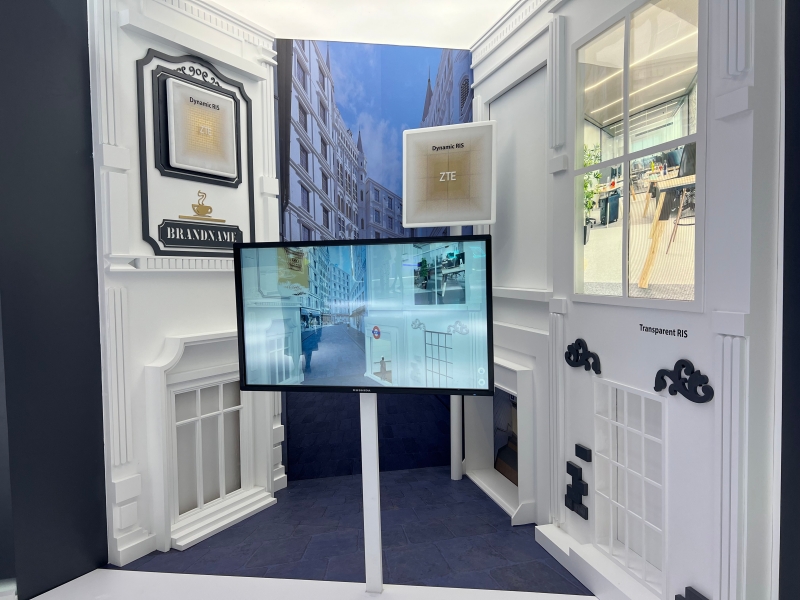 Barcelona, Spain, 2 March 2023  - ZTE Corporation (0763.HK / 000063.SZ), a global leading provider of information and communication technology solutions, today has launched its latest generation of RIS (Reconfigurable Intelligent Surface) solution, Dynamic RIS at Mobile World Congress(MWC) Barcelona in 2023.  
RIS is a new generation of multi-antenna technology developed based on metamaterial technology. By adjusting the phase, amplitude, or polarization direction of the metasurface antenna unit, RIS can greatly improve the electromagnetic wave propagation environment, thereby expanding wireless signal coverage and improving cell throughput. Featuring capability of intelligently regulating large-scale and low-cost passive antenna units in a low-power way, it can reconfigure the wireless environment as one of the key technologies for the evolution of 5G-Advanced and 6G networks.
ZTE's Dynamic RIS is based on the base station's native intelligence. Through the 5G base station and RIS dynamic cooperative beamforming algorithm, it can realize RIS dynamic beam sweeping and user beam tracking, so as to achieve better coverage, superior user experience, and mobility support.
ZTE started research on RIS technology in 2021, and launched the first-generation RIS solution at MWC Barcelona 2022. In August 2022, ZTE completed the Dynamic RIS field test in Shanghai, in terms of networking. In this test, one millimeter-wave AAU and one Dynamic RIS were used for the network, and a coverage area of 10,000 square meters was achieved by only one Dynamic RIS, a 30% increase on the basic coverage of the millimeter-wave AAU. In the coverage area, the average downlink user rate was increased by 6 times while the uplink was increased by 20 times.
In terms of deployment, ZTE's Dynamic RIS, unlike static RIS, which needs to be customized according to the environment, can adapt to various deployment environments. Once deployed, the RIS beam direction, leveraging the native intelligence of the base station, can be dynamically adjusted according to users' locations, thereby saving a lot of manual network optimization workload. In addition, the Dynamic RIS can also be deployed in camouflage, for example, as a billboard to perfectly blend with the environment.
Moving forward, ZTE will stay committed to conducting R&D and commercial pilots of RIS technology. The company will keep carrying out  the verification of multi-base stations and multi-RIS in comprehensive commercial networks, launching RIS automation planning tools  and promoting the industry chain to reduce the cost and power consumption of RIS devices, expecting to lay a technical foundation for the commercial use of RIS technology.
For more information, please visit ZTE booth (3F30, Hall 3, Fira Gran Via) at Mobile World Congress 2023, or explore:https://www.zte.com.cn/global/about/exhibition/mwc23.html
ABOUT ZTE:
ZTE helps to connect the world with continuous innovation for a better future. The company provides innovative technologies and integrated solutions, its portfolio spans all series of wireless, wireline, devices and professional telecommunications services. Serving over a quarter of the global population, ZTE is dedicated to creating a digital and intelligent ecosystem, and enabling connectivity and trust everywhere. ZTE is listed on both the Hong Kong and Shenzhen Stock Exchanges. www.zte.com.cn/global
FOLLOW US:
Facebook  www.facebook.com/ZTECorp
Twitter  www.twitter.com/ZTEPress
LinkedIn  www.linkedin.com/company/zte
MEDIA INQUIRIES:
ZTE Corporation
Communications
Email: ZTE.press.release@zte.com.cn