China Mobile, ZTE and Qualcomm Technologies complete the industry's first verification of 5G sub-band full-duplex
Release Time:2023-02-22
China Mobile, ZTE and Qualcomm Technologies have successfully completed 5G Sub-band Full-Duplex verification and compatibility test
It has achieved the industry's first sub-band full-duplex gNB, with higher uplink throughput over 1.47Gbps and lower end-to-end latency of 3.9ms simultaneously in TDD band with 100MHz system bandwidth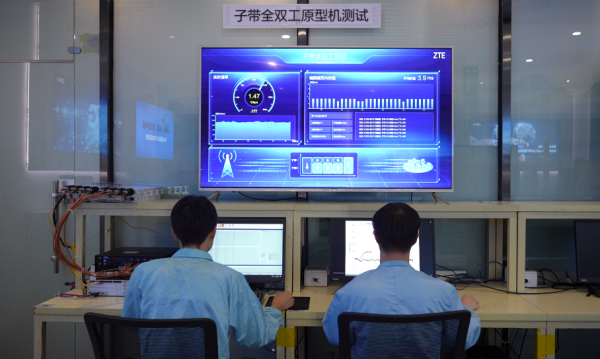 22 February 2023, Shenzhen, China - ZTE Corporation (0763.HK / 000063.SZ), a global leading provider of information and communication technology solutions, in partnership with China Mobile and Qualcomm Technologies, Inc. has successfully completed 5G Sub-band Full-Duplex (SBFD) verification and compatibility test in Xi'an Joint Innovation Lab, achieving the industry's first sub-band full-duplex gNB, with higher uplink throughput over 1.47Gbps and lower end-to-end latency of 3.9ms simultaneously in TDD band with 100MHz system bandwidth.
This flexible frame structure was verified with Snapdragon® X65 Modem-RF System based reference device.
As ZTE continues delivering enhanced mobile broadband experiences and extending 5G reach into new use cases, the company is seeing major breakthroughs in 5G technology, allowing for higher flexibility and efficiency on limited radio spectrums within a conventional TDD band.
Sub-band full-duplex (SBFD) is a promising enhancement as it allows gNB to perform simultaneous transmission and reception at the same time but in different non-overlapping sub-bands. 5G Advanced SBFD is a key milestone towards full duplex evolution. Thanks to SBFD, gNB allows flexible UL/DL resource allocation and adaptation based on UL/DL traffic. Further, it will help reduce latency while improving UL coverage and system throughput.

ZTE has launched the industry's first SBFD RRU (Remote Radio Unit) with enhanced transceiver architecture by integrating multiple self-interference cancellation schemes like spatial isolation, analog sub-band filter and digital interference cancellation. The self-interference could be mitigated over 130dB which enables optimal reception performance of the uplink signal at the gNB receiver. In addition, ZTE's SBFD solution adopts "Flexible" slot in frame structure configuration and uses UE-level radio resource scheduling mechanisms to be compatible with legacy UEs.  
As the industry moves towards 5G Advanced, China Mobile, ZTE and Qualcomm Technologies, have been demonstrating their continuous push towards innovations, expecting to capture new growth opportunities in the consumer and enterprise segments.
ABOUT ZTE:
ZTE helps to connect the world with continuous innovation for a better future. The company provides innovative technologies and integrated solutions, its portfolio spans all series of wireless, wireline, devices and professional telecommunications services. Serving over a quarter of the global population, ZTE is dedicated to creating a digital and intelligent ecosystem, and enabling connectivity and trust everywhere. ZTE is listed on both the Hong Kong and Shenzhen Stock Exchanges. www.zte.com.cn/global
FOLLOW US:
Facebook  www.facebook.com/ZTECorp
Twitter  www.twitter.com/ZTEPress
LinkedIn  www.linkedin.com/company/zte
MEDIA INQUIRIES:
ZTE Corporation
Communications
Email: ZTE.press.release@zte.com.cn