ZTE showcases Mini5GC at MWC 2023
Release Time:2023-03-02
Barcelona, Spain, 2 March 2023 - ZTE Corporation (0763.HK / 000063.SZ), a global leading provider of information and communication technology solutions, today has showcased its 5G private network product, dubbed Mini5GC at Mobile World Congress (MWC) 2023 in Barcelona, Spain.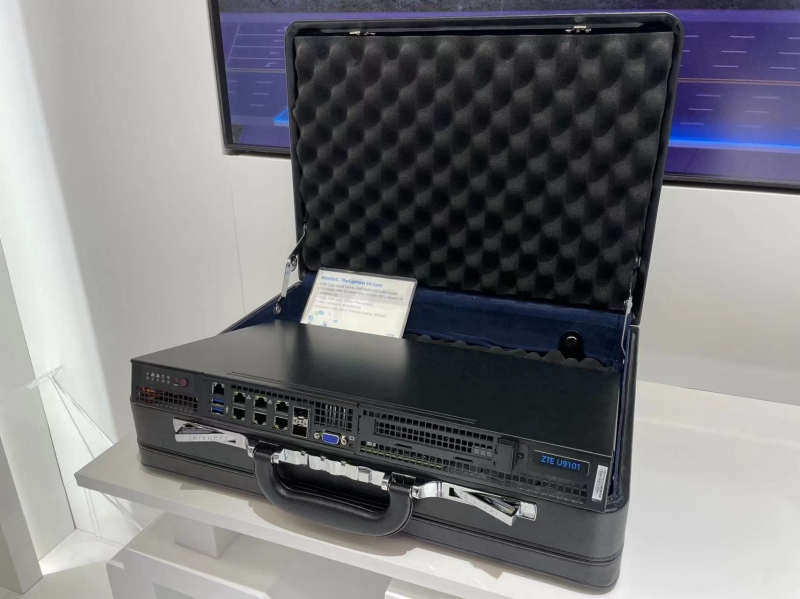 The product was launched at ZTE 5G Summit and User Congress in November, 2022.
Mr. Wang Quan, VP of ZTE, said: "ZTE's Mini5GC is a 5G core network product with the smallest size in the world, the most complete functions and the fastest launch speed under the same performance. It is recognized as 'the only suitcase-class 5GC in the industry'."
"Our Mini5GC, featuring A3 paper size and 1U height, can be deployed in more complicated scenarios such as mining areas, high-speed railway and planes, emergency rescue, flexible workstation and green power grids, helping fast service innovations in vertical industries," added Mr. Wang.
Ms. Yang Rui, a senior expert of ZTE, demonstrated this minimum 5G private network Mini5GC to VIPs and industry experts in the technical exchange activity. "Mini5GC, more than just being small and light, is also designed simple and easy to use. Once plugging in the power and the network, and pushing power on button, you will set all your private network," said Ms. Yang.
Moving forward, ZTE will cooperate with industry partners to make consistent innovations, helping operators empower digital and intelligent industry, explore potential markets, create new values and build a win-win 5G industrial ecosystem.
For more information, please visit ZTE booth (3F30, Hall 3, Fira Gran Via) at Mobile World Congress 2023, or explore: https://www.zte.com.cn/global/about/exhibition/mwc23.html
ABOUT ZTE:
ZTE helps to connect the world with continuous innovation for a better future. The company provides innovative technologies and integrated solutions, its portfolio spans all series of wireless, wireline, devices and professional telecommunications services. Serving over a quarter of the global population, ZTE is dedicated to creating a digital and intelligent ecosystem, and enabling connectivity and trust everywhere. ZTE is listed on both the Hong Kong and Shenzhen Stock Exchanges. www.zte.com.cn/global
FOLLOW US:
Facebook  www.facebook.com/ZTECorp
Twitter  www.twitter.com/ZTEPress
LinkedIn  www.linkedin.com/company/zte
MEDIA INQUIRIES:
ZTE Corporation
Communications
Email: ZTE.press.release@zte.com.cn