ZTE and China Telecom unveil the "Smart Giga 5G Powered Metro" in Shanghai
Release Time:2023-08-01
"Smart Giga 5G Powered Metro" recently announced by ZTE and China Telecom, on Shanghai Metro Line 4, achieves "high-speed backhaul" of 15Gbps downlink
The industry's first BBU + pRRU two-level architecture 5G indoor solution is deployed inside the metro carriage, to provide an unparalleled Gigabit experience on metro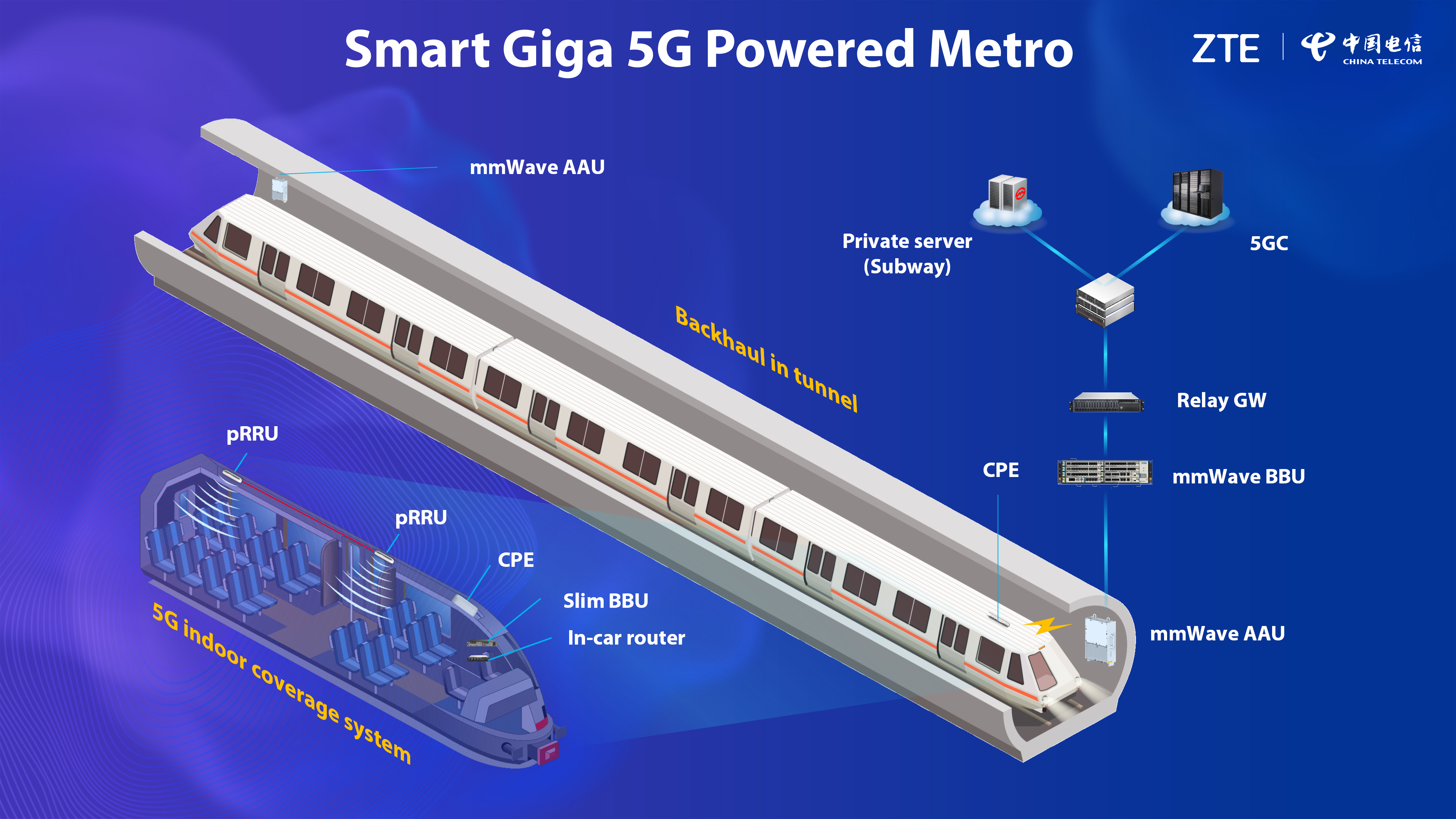 Shenzhen, China, 1 August 2023 - ZTE Corporation (0763.HK / 000063.SZ), a global leading provider of information and communication technology solutions, collaborates with China Telecom's Shanghai branch to introduce the groundbreaking "Smart Giga 5G Powered Metro" on Shanghai Metro Line 4. This cutting-edge solution delivers an unparalleled Gigabit experience for metro passengers, enabling seamless HD film streaming for all users simultaneously, without any internet slowdown. The "Smart Giga 5G Powered Metro" boasts a peak rate exceeding 2.1Gbps and an average rate of 1.7Gbps+, setting a new paradigm for metro connectivity. Moreover, this initiative lays a strong digital foundation for smart metro operations.
To enhance 5G network coverage and elevate the user experience on the metro has become one of the most crucial challenges in the industry. The conventional LCX (Leaky Coaxial Cable) coverage solution has encountered significant obstacles, with network signals severely weakened inside the metro due to signal attenuation caused by the dense metal carriages and the Doppler effect resulting from the rapid movement of the train. Moreover, the restricted availability of LCX deployment space limits the cell capacity, leading to an inability to meet the required throughput during peak traffic hours in the mornings and evenings.
Regarding the special application scenario for the metro, China Telecom's Shanghai branch collaborates with ZTE innovatively to build the "Smart Giga 5G Powered Metro" with "Metro 5G coverage with vehicle-mounted equipment + high-speed 5G backhaul." A complete 5G indoor coverage system is deployed inside the metro carriage using ZTE's industry-first BBU + pRRU two-level architecture. 5G AAUs are deployed in tunnels working as the high-speed backhaul, receiving data from CPEs both ends of the train simultaneously. The total backhaul can deliver up to 15Gbps downlink and 2Gbps uplink. Consistent 5G signals is guaranteed, to provide mobile users with high-speed experiences.
The solution has been successfully commercialized on Shanghai Metro Line 4, bringing forth four significant innovative benefits:
Improved User Experience: The user experience has seen a remarkable improvement of almost three times. In comparison to the traditional LCX solution's 600Mbps speed rate, Line 4 users now enjoy a peak speed of 2.1Gbps and an average speed of 1.7Gbps.
Unified Network for Diverse Demands: This cutting-edge solution caters to both mobile users and smart metro operations, promoting the development of smart cities by enabling safer and more intelligent metro operations.
Cost-Effectiveness and Sustainability: Operators can minimize their investment while creating a greener, lower-carbon network through backhaul sharing. Approximately 20% of the investment has been saved on Metro Line 4 compared to the traditional LCX solution. Furthermore, it is estimated that 3.7 million kWh of electricity or 2,200 tons of carbon emissions will be saved annually.
Streamlined Network Deployment: By eliminating the need to lay LCX, the complexity of metro network deployment has been greatly reduced. For instance, Line 4's construction time has been halved, completing the project in just six months, instead of one year.
The "Smart Giga 5G Powered Metro" is dedicated to developing passenger-focused and service-focused smart metro applications. With the ongoing iteration and advancement of communications technologies, China Telecom's Shanghai branch will continue to collaborate with ZTE in more fields, focusing on new-generation information technologies such as Industrial Internet, Internet of Things, Cloud Computing, Big Data, and Artificial Intelligence. Their focus on innovation aims to further empower smart transportation and lead the digital transformation of the metro system and various traditional industries.
ABOUT ZTE:
ZTE helps to connect the world with continuous innovation for a better future. The company provides innovative technologies and integrated solutions, its portfolio spans all series of wireless, wireline, devices and professional telecommunications services. Serving over a quarter of the global population, ZTE is dedicated to creating a digital and intelligent ecosystem, and enabling connectivity and trust everywhere. ZTE is listed on both the Hong Kong and Shenzhen Stock Exchanges. www.zte.com.cn/global
FOLLOW US:
Facebook  www.facebook.com/ZTECorp
Twitter  www.twitter.com/ZTEPress
LinkedIn  www.linkedin.com/company/zte
YouTube www.youtube.com/@ZTECorporation
MEDIA INQUIRIES:

ZTE Corporation
Communications
Email: ZTE.press.release@zte.com.cn