ZTE presents insights at the Asia Pacific Engineer Consulting Webinar
Release Time:2023-02-07
ZTE has introduced the digital transformation of ZTE Global Service, the intelligent digital delivery platform iEPMS, and the digital methodology.
ZTE has provided customers, partners, and its employees with multi-party collaboration capabilities, bringing knowledge empowerment and efficiency tools.

7 February 2023, Shenzhen, China - ZTE Corporation (0763.HK / 000063.SZ), a global leading provider of information and communication technology solutions has been invited as an enterprise representative of the digital transformation practice in China to the FIDIC (International Federation of Consulting Engineers) Asia Pacific Webinar, organized by the China National Association of Engineering Consultants online recently.
The Webinar, themed with "New Infrastructure and Digital Transformation", gathered over 100 digital experts from more than 40 member countries in Asia Pacific. Mr. Yang Yahan, senior engineering project management director of ZTE Global Service Digitization, has delivered a speech entitled "Digital and Intelligent Evolution of ZTE Global Service Engineering Project Management"at the Webinar.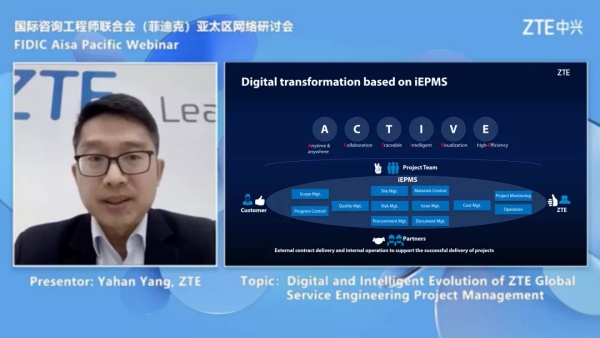 In his speech on "Digital Transformation," Mr. Yang Yahan introduced the digital transformation of ZTE Global Service, the intelligent digital delivery platform iEPMS, and the digital methodology.
- Global Service Start Digital and Intelligent Transformation
ZTE's started its digital transformation in 2016. ZTE's Global Service has created the concept of digital network deployment. ZTE has independently developed a "real-time, automatic, collaborative, and visible" iEPMS (Intelligent Engineering Project Management System) digital delivery platform, which runs through the entire end-to-end process of contracts, supply chain, procurement, engineering, services, and finance, and is the first in the industry to achieve automation, intelligent, and digitalization of network deployment and engineering project management.
According to Mr. Yang, digital and intelligent transformation needs to be based on the panoramic view and elaborate every detail that can integrate new technologies, covering high-value business scenarios, processes, and tools as much as possible, and maximizing efficient delivery and intelligent transformation. ZTE's Global Service Digital Delivery Platform (iEPMS) effectively supports the business process and data launch of sites in communication networks, and organically connects "people, machines, materials, methods, and rings" and other elements through diversified, real-time, and intelligent digital tools, so that site delivery business can be coordinated in a more real-time manner, business data can be more accurate, job delivery can be more intelligent, and project management and control can be more efficient.
- IEPMS Digital Delivery Platform Boosts Project Efficiency
Each functional module of the iEPMS system can support the real-time, intelligent, collaborative, and efficient implementation of activity operations in different business scenarios, facilitating the efficient delivery of projects.
In Scope Management, ZTE's iEPMS can scope engineering projects based on products, scenarios, work packages, activities, and SOPs. After the delivery unit model is determined, tasks can be efficiently assigned to specific teams or individuals to support cost assessment and outsourcing settlement.
In Progress Management, the iEPMS progress management supports three-level project plan management, including the milestone plan, master plan, and implementation plan. Time costs can ben effectively reduced by connecting activities to specific tools, assigning tasks to remote sites, collecting data, and automatically receiving real-tim'se progress on related activities.
In terms of Quality Management, ZTE's iEPMS supports on-site quality and security assurance through the AI quality inspection function. Most self-check points support AI automatic approval. The on-site operation team can get feedback within 25 minutes, without additional site visits, which is helpful for partners to save costs.
In Material Management, the iEPMS can track and control the delivery of engineering materials from the warehouse to the site acceptance status, facilitating the clarification of site acceptance control, financial audit, and compliance management and control.
- Digital Methodology Guiding Digital Capability Construction
To achieve digital transformation, enterprises need to identify high-value scenarios in each field through "extreme scenarios" traction and closed-loop acceptance based on the enterprise transaction architecture, create "local tools" with ultimate experience from the perspective of the operator. Considering the low-cost consumption demands of business data in each field, digital thinking is generally established in enterprises to promote end-to-end "global data" governance from user scenarios. Also, transactions can be maximized through low-cost consumption of modular capabilities and product component.
Global Data Connectivity
In the face of disconnected global data and repeated investment in R&D resources, digital transformation needs to identify high-value requirements, define data specifications, and carry out data governance in the overall dimension of the company's business to ensure data unification, same source and interconnection, and promote the use and consumption of data as much as possible to generate higher value. This is the only way for digital transformation.
Maximizing transactions with customers
Communication network project delivery is a transaction that hands network construction over to customers. To maximize the transaction between enterprises and customers, key high-value data needs to be identified during engineering implementation and transfer. The iEPMS can be integrated with the customer collaboration platform and customer system to provide high-frequency usage data, including site information, site progress, documents, quality status, and materials.
Yang Yahan concluded that after years of digital transformation, ZTE has developed an effective digital methodology. By building intelligent efficiency tools, data application and analysis capabilities, and management capabilities with the same data source, ZTE has provided customers, partners, and ZTE employees with multi-party collaboration capabilities, and provided customers and partners with knowledge empowerment and efficiency tools. ZTE has been committed to promoting project delivery on the basis of cost reduction, efficiency improvement and intelligence, aimed to build a win-win ecosystem and lead the industry development.
ABOUT ZTE:
ZTE helps to connect the world with continuous innovation for a better future. The company provides innovative technologies and integrated solutions, its portfolio spans all series of wireless, wireline, devices and professional telecommunications services. Serving over a quarter of the global population, ZTE is dedicated to creating a digital and intelligent ecosystem, and enabling connectivity and trust everywhere. ZTE is listed on both the Hong Kong and Shenzhen Stock Exchanges. www.zte.com.cn/global
FOLLOW US:
Facebook  www.facebook.com/ZTECorp
Twitter  www.twitter.com/ZTEPress
LinkedIn  www.linkedin.com/company/zte
MEDIA INQUIRIES:
ZTE Corporation
Communications
Email: ZTE.press.release@zte.com.cn