ZTE wins the "Most Innovative Enterprise PON Use Case" award for its Light Campus solution at Network X 2023
Release Time:2023-10-30
ZTE deploys the Light Campus 10G all-optical solution, delivering 1,000 Mbps to office desks and enabling concurrent 200 Mbps access for all employees in Jiangjun Mountain Office Park
The ZTE Light Campus solution offers significant reductions in equipment costs, cabling expenses, and power consumption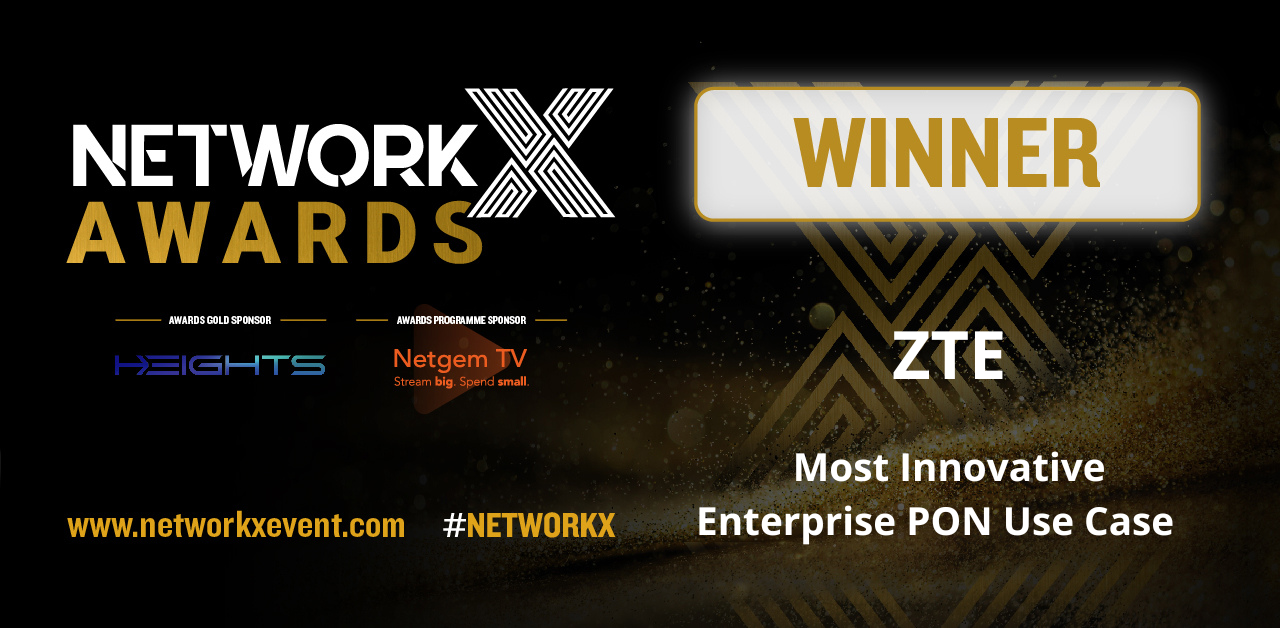 ZTE wins the Most Innovative Enterprise PON Use Case award
Paris, France, 30 October 2023 - ZTE Corporation (0763.HK / 000063.SZ), a global leading provider of information and communication technology solutions, today announced that it has been honored with the prestigious Most Innovative Enterprise PON Use Case award for its groundbreaking Light Campus solution at Network X 2023 held in Paris, France.
In the city of Nanjing, Jiangjun Mountain Office Park, a comprehensive facility accommodating over 6,000 employees, required gigabit cloud desktop access for all staff members. ZTE's Light Campus 10G all-optical solution has provided 1,000 Mbps connectivity to office desks and supported concurrent 200 Mbps access for every employee. This solution ensures seamless, high-bandwidth coverage, one fiber for multiple access, versatile network management, maintenance, and on-demand service upgrades in enterprise campus scenarios, ultimately establishing a dependable and intelligent digital campus.
Compared to traditional Ethernet switch networking, ZTE's Light Campus solution offers significant reductions in equipment and cabling costs, as well as power consumption. Through all-fiber deployment, it satisfies future service requirements, supports fiber connectivity to various devices, and allows for bandwidth upgrades without changing the transmission medium, leading to lower maintenance costs and substantial OPEX savings.
ZTE's achievement of this prestigious award underscores the company's formidable technical expertise and innovation in the realm of enterprise PON network applications.
The Network X Awards 2023, organized by Informa, a prominent international organization specializing in events, digital services, and academic knowledge, aims to honor accomplishments, ingenuity, and excellence within the telecommunications industry. Network X combines 5G World, BBWF (Broadband World Forum), and Telco Cloud, uniting both fixed and mobile markets under one roof.
ABOUT ZTE:
ZTE helps to connect the world with continuous innovation for a better future. The company provides innovative technologies and integrated solutions, its portfolio spans all series of wireless, wireline, devices and professional telecommunications services. Serving over a quarter of the global population, ZTE is dedicated to creating a digital and intelligent ecosystem, and enabling connectivity and trust everywhere. ZTE is listed on both the Hong Kong and Shenzhen Stock Exchanges. www.zte.com.cn/global
FOLLOW US:
Facebook  www.facebook.com/ZTECorp
Twitter  www.twitter.com/ZTEPress
LinkedIn  www.linkedin.com/company/zte
YouTube www.youtube.com/@ZTECorporation
MEDIA INQUIRIES:
ZTE Corporation
Communications
Email: ZTE.press.release@zte.com.cn