ZTE TECS Cloud Platform earns the prestigious GlobalData Leader rating for three consecutive years
Release Time:2023-05-17
Full score Leader rating showcases ZTE's distinct advantages and robust capabilities in the field of cloud platforms
ZTE advanced cloud architecture and versatility for various cloud scenarios enable operators to reduce costs and ensure seamless evolution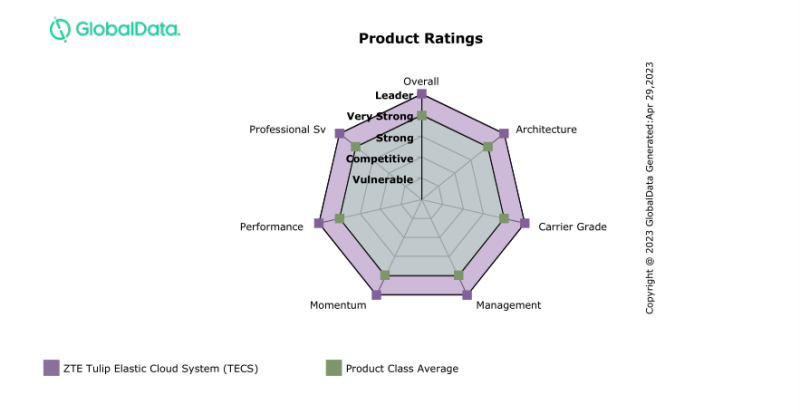 Shenzhen, China, 17 May 2023 - ZTE Corporation (0763.HK / 000063.SZ), a global leading provider of information and communication technology solutions, announced today that its TECS (Tulip Elastic Cloud System) solution has once again received the full score Leader rating in all six dimensions, according to the latest NFVI / Telco Cloud rating report for 2023 by GlobalData, a renowned data analytics and consulting company in the global ICT industry. ZTE's TECS Cloud Platform has achieved the esteemed GlobalData Leader rating for three consecutive years. 
The report evaluated the top six telco cloud platform vendors worldwide across six dimensions: Solution Architecture, Carrier Grade Features, Management, Market Momentum, Performance, and Professional Services. ZTE has once again attained full marks in all six dimensions, securing its third consecutive leader ratings. This accomplishment further showcases ZTE's distinct advantages and robust capabilities in the field of cloud platforms. 
According to GlobalData, ZTE's TECS products offer notable advantages in terms of advanced architecture and versatility for various cloud scenarios, enabling operators to reduce costs and ensure seamless evolution. The TECS dual-engine cloud platform facilitates unified deployment and management of containers, virtual machines, and bare metal resources. The architecture supports on-demand switching between virtual machines and containers, flexibly responds to uncertain containerized service models, and evolves towards cloud-native and expands capacity on demand.
Additionally, the platform supports scalable capacity expansion and evolution by leveraging existing resource pools, enhancing resource utilization, and reducing time to market. 
As per the GlobalData report, ZTE's NEO smart cloud card builds a new computing architecture centered around the Data Processing Unit (DPU). This innovative approach enables offloading and acceleration of computing, networking, storage, and security tasks, effectively reducing the CPU's workload. Consequently, the overall system performance is improved. The NEO smart cloud card finds wide applicability in both CT (Communications Technology) and IT (Information Technology) cloud scenarios.
In the telco cloud domain, the NEO card is utilized to offload computing power and manage containers, satisfying the requirements of cloud-native applications with significant flow tables and high forwarding demands. In edge scenarios, ZTE's MEC (Multi-Access Edge Computing) solution, built upon the NEO cloud cards, offers plug-and-play functionality, high integration, and enhanced security. This solution facilitates the deployment of diverse cloud resources with varying specifications throughout the operator's network. It also caters to the differentiated needs of enterprises, empowering vertical industry applications.
In private and public cloud scenarios, the NEO cloud cards are employed for bare metal cloud management. This implementation allows bare metal resources to possess the performance characteristics of physical machines while retaining the elasticity typically associated with virtual machines. Consequently, enterprises can swiftly migrate to the cloud while leveraging the advantages of both physical and virtual infrastructures.
GlobalData noted that ZTE's Cloud Infrastructure Intelligent Analysis System (CIIA) is at a leading level in the industry. CIIA provides users with a one-stop cloud resource pool operation and maintenance solution, including capabilities such as risk identification, fault diagnosis, quality optimization, resource management, and northbound interface. Furthermore, CIIA incorporates artificial intelligence (AI) in multiple scenarios, facilitating the advancement of operational and maintenance capabilities toward level 4 autonomy in networks.
To date, ZTE TECS products have been successfully deployed in over 500 virtualized projects across the globe. ZTE has formed deep collaborations with leading global operators and government enterprise customers, successfully penetrating multiple high-end operator markets. Moreover, ZTE assumes significant responsibilities within standard organizations and open-source communities such as ETSI, OpenStack, CNCF, and OpenDaylight. By partnering with industry allies, ZTE strives to build an open and mutually beneficial industrial ecosystem. Their commitment lies in establishing an intelligent cloud platform with exceptional performance, simplified operation and maintenance, and unparalleled security. Joining forces with global operators and industry partners, ZTE endeavors to shape a brighter future.
ABOUT ZTE:
ZTE helps to connect the world with continuous innovation for a better future. The company provides innovative technologies and integrated solutions, its portfolio spans all series of wireless, wireline, devices and professional telecommunications services. Serving over a quarter of the global population, ZTE is dedicated to creating a digital and intelligent ecosystem, and enabling connectivity and trust everywhere. ZTE is listed on both the Hong Kong and Shenzhen Stock Exchanges. www.zte.com.cn/global
FOLLOW US:
Facebook  www.facebook.com/ZTECorp
Twitter  www.twitter.com/ZTEPress
LinkedIn  www.linkedin.com/company/zte
YouTube  https://www.youtube.com/@ZTECorporation
MEDIA INQUIRIES:
ZTE Corporation
Communications
Email: ZTE.press.release@zte.com.cn