ZTE showcases comprehensive end-to-end all-optical products and solutions at ANGA COM 2023
Release Time:2023-05-23
50G PON Combo supports smooth evolution of three generations of PON technology: GPON, XG(S)-PON and 50G PON
Connected home solution features 10G PON, Wi-Fi 7, Mesh Wi-Fi&FTTR, and SCP mgmt. platform for gigabit+ experience
E2E all-optical solution empowers optical networks evolution towards 200G/400G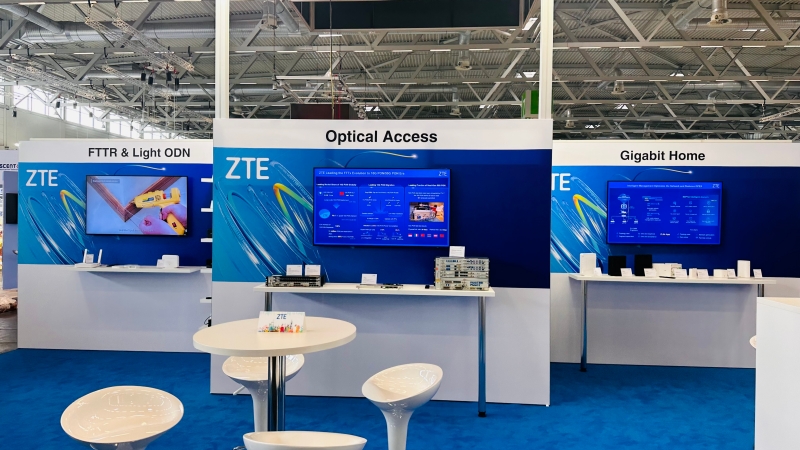 Cologne, Germany, May 23 2023 - ZTE Corporation (0763.HK / 000063.SZ), a global leading provider of information and communication technology solutions has successfully participated in the ANGA COM 2023 in Cologne, Germany, with the theme "Unleashing XGiga Potential". ZTE holds the leading position in the global market share for 10G PON and was ranked No. 1 for 10G PON shipments worldwide in Q4 2022, according to the latest research conducted by Dell'Oro Group.
ANGA COM is Europe's premier business platform for Broadband, Television, and Online. It serves as a gathering point for network operators, vendors, and content providers to discuss various aspects of broadband and media distribution. The upcoming event is scheduled to take place from May 23 to 25, 2023, in Cologne, Germany. ANGA COM focuses on key topics such as Gigabit Networks, FTTx, 5G, OTT, AppTV, Cloud TV, Video Streaming, Smart City, and Smart Home. The previous ANGA COM event featured 390 exhibitors from 33 countries and attracted over 18,000 participants from 82 countries.
At this year's ANGA COM, ZTE showcased its 50G PON&10G GPON&GPON three-mode Combo PON solution, which features an independent wavelength stacking mechanism to support three generations of PON technologies (GPON, 10G GPON, and 50G PON). Meanwhile, the solution shares the same ODN and the same platform, solves the problems such as high construction costs, large room space occupation in central offices, complex optical fiber cabling, and difficult O&M during the evolution from GPON to 10G GPON and then to 50G PON, and helps operators rapidly and flexibly provision high-bandwidth services, thereby simplifying network construction and reducing deployment costs. The solution inherits and develops the Combo PON concept, and is an innovative solution in the smooth evolution from GPON to 10G GPON, and then to 50G PON.   
To address the specific requirements for ODN (Optical Distribution Network) constructions in Europe, ZTE has demonstrated its Light ODN solution, which reflects the concept of pre-termination, no-splicing, plug-and-play with tangible objects, and visible ODN. This solution reduces the labor cost of lightweight construction by 30% and improves the construction efficiency by 50%, effectively solving the problems of high labor cost and engineering difficulty in constructing optical fibers. It also makes the ODN network visible and manageable, and significantly lowers OPEX.  
To address the common problem of inadequate Wi-Fi signal coverage within homes, along with the resulting customer complaints, ZTE has introduced an innovative connected home solution. This comprehensive solution encompasses 10G PON, Wi-Fi 7, Mesh Wi-Fi & FTTR (Fiber to the Room), SCP management platform, and MBB (Mobile Broadband) products. ZTE recognizes that connectivity serves as the fundamental building block for home networks. By integrating these technologies, the solution enhances bandwidth and extends coverage, ultimately providing users with an exceptional gigabit-plus experience throughout their entire home.

ZTE also showcased its comprehensive all-optical solution designed to assist operators in the evolution of their optical networks towards 200G/400G capacities. Regarding 200G Access OTN, ZTE offers a versatile 5-in-1 device featuring an impressive switching capacity of 2.8T, suitable for various scenarios such as 4G, 5G, Fixed Broadband (FBB), enterprise, and edge data centers.
In the case of 400G Metro OTN, ZTE provides a genuine 400G solution capable of achieving an industry-leading fiber capacity of 96T through the utilization of C6T+L6T spectrum width. Additionally, for 400G Backbone OTN, ZTE has successfully achieved a transmission distance of 2,808km in a commercial network setting. Furthermore, ZTE has verified an exceptional transmission distance of 5,616km with 400G QPSK modulation.

In addition to high bandwidth, end users also have a growing expectation for a superior overall experience. To meet this demand, ZTE showcased its big video solution at the conference, aimed at helping operators enhance their video service capabilities and operational efficiency. ZTE's diverse range of multimedia terminals not only provide improved connectivity but also offer an enhanced ecosystem and user experience. By leveraging these terminals, operators can effectively deliver successful video services to their customers.
 
As operators undergo network transformation, transitioning from Cable, DSL, to FTTH networks, ZTE offers a comprehensive multi-connection solution for Digital Video Broadcasting (DVB), Hybrid, IPTV/OTT, and Combo Set-Top Boxes (STBs). This solution caters to the diverse requirements of operators in their journey towards service transformation. It enables operators to seamlessly adapt to various network technologies and deliver a wide range of services to their customers.
Furthermore, ZTE's Advanced Television (ATV) and Reference Design Kit (RDK) Set-Top Boxes (STBs) are equipped to enhance video content and ecosystem integration. These STBs seamlessly integrate popular platforms such as ATVs, Netflix, Amazon Prime Video, and Disney+. ZTE Ranks No.1 in IP STB. 
ZTE is committed to enabling comprehensive and all-optical connectivity, driving the advancement of gigabit access and expanding the utilization of fiber optics within homes. This transformation aims to elevate home broadband from mere gigabit access to an enhanced gigabit experience, thus establishing a robust digital home foundation supported by a new home infrastructure. The integration of connectivity and cloud network convergence further enhances the seamless connectivity experience. Moreover, ZTE extends the deployment of fiber optics to cater to the evolving needs of enterprises and campuses, ensuring they benefit from lower latency, higher reliability, and optimized performance in complex environments.
Moving forward, ZTE remains dedicated to its commitment to technological innovation. The Company will continue to foster deep collaborations with operators and industry partners. Through these collaborations, ZTE aims to deliver improved broadband connections and provide users with enhanced experiences.  
ABOUT ZTE:
ZTE helps to connect the world with continuous innovation for a better future. The company provides innovative technologies and integrated solutions, its portfolio spans all series of wireless, wireline, devices and professional telecommunications services. Serving over a quarter of the global population, ZTE is dedicated to creating a digital and intelligent ecosystem, and enabling connectivity and trust everywhere. ZTE is listed on both the Hong Kong and Shenzhen Stock Exchanges. www.zte.com.cn/global
FOLLOW US:
Facebook  www.facebook.com/ZTECorp
Twitter  www.twitter.com/ZTEPress
LinkedIn  www.linkedin.com/company/zte
YouTube https://www.youtube.com/@ZTECorporation
MEDIA INQUIRIES:
ZTE Corporation
Communications
Email: ZTE.press.release@zte.com.cn