ZTE launches a new-generation ultra-high-bandwidth mmWave AAU
Release Time:2023-05-09
ZTE and Thailand AIS have launched a new-generation ultra-large-bandwidth millimeter wave AAU, the world's first to support 1.2 GHz bandwidth and above, with a maximum bandwidth of 1.6 GHz
The peak rate of single-sector MUs was measured to reach 22.01Gbps in the downlink and 4.32 Gbps in the uplink, which greatly exceeds the industry average
Shenzhen, China, 9 May 2023 - ZTE Corporation (0763.HK / 000063.SZ), a global leading provider of information and communication technology solutions has launched a new-generation ultra-large-bandwidth millimeter wave AAU in partnership with AIS. This milestone was celebrated at the joint innovation center in Bangkok. This millimeter wave AAU is the world's first to support 1.2 GHz bandwidth and above, with a maximum bandwidth of 1.6 GHz.

During the on-site live demonstration, the NR-DC mode was utilized along with the 1.2 GHz bandwidth millimeter wave spectrum owned by AIS. The peak rate of single-sector MUs was measured to reach 22.01Gbps in the downlink and 4.32 Gbps in the uplink, which greatly exceeds the industry average. It is widely known that millimeter wave offers rich spectrum resources, and many operators have access to millimeter wave spectrum over 1GHz. The ultra-large bandwidth and high capacity of this single AAU will help operators to make full use of their millimeter wave spectrum potential.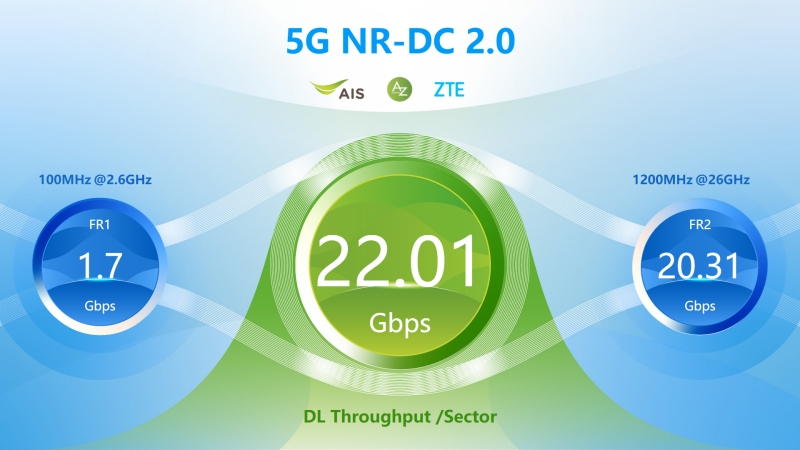 DL real-time rate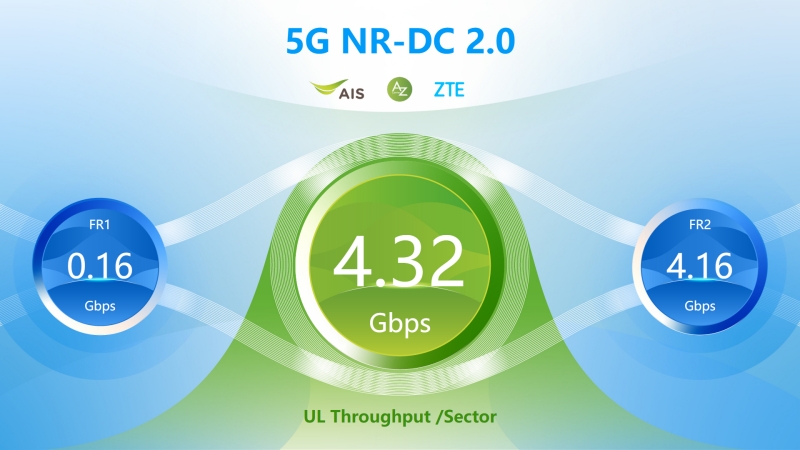 UL real-time rate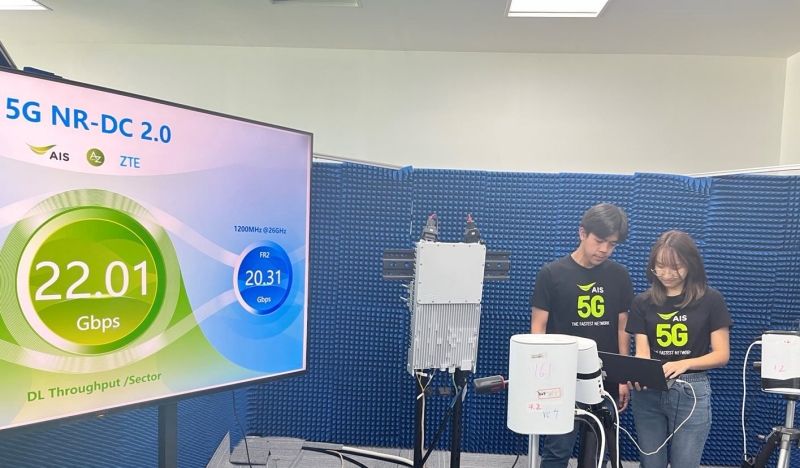 millimeter wave AAU on site
AIS possesses millimeter-wave spectrum resources with 1.2 GHz bandwidth and a strong demand for large-bandwidth millimeter-wave equipment. However, the typical maximum OBW of millimeter-wave in the industry is 800 MHz, which makes it uneconomical for operators to deploy mmW. With the launch of ZTE's new-generation ultra-high-bandwidth millimeter wave product, AIS can fully utilize its rich spectrum resources while also benefiting from high network capacity. Furthermore, when combined with industry application requirements, this technology will enable AIS to tap into vertical industry business opportunities.
Moving forward, AIS will continue its in-depth cooperation with ZTE to lead the industry development, explore innovative technologies, verify solutions, and improve network performance. This partnership will promote the development of vertical industries and support the digital transformation of industries. Together, AIS and ZTE will explore the great potential of 5G networks in the digital economy era, and jointly build the best 5G network in Southeast Asia.
ABOUT ZTE:
ZTE helps to connect the world with continuous innovation for a better future. The company provides innovative technologies and integrated solutions, its portfolio spans all series of wireless, wireline, devices and professional telecommunications services. Serving over a quarter of the global population, ZTE is dedicated to creating a digital and intelligent ecosystem, and enabling connectivity and trust everywhere. ZTE is listed on both the Hong Kong and Shenzhen Stock Exchanges. www.zte.com.cn/global
FOLLOW US:
Facebook  www.facebook.com/ZTECorp
Twitter  www.twitter.com/ZTEPress
LinkedIn  www.linkedin.com/company/zte
YouTube  https://www.youtube.com/@ZTECorporation
MEDIA INQUIRIES:
ZTE Corporation
Communications
Email: ZTE.press.release@zte.com.cn