ZTE Hu Junjie: flexible network slicing empowers future customized networks
Release Time:2023-02-28
● Hard slicing in transport network can meet SLA requirements of deterministic latency and high isolation. It connects wireless and core networks to compose end-to-end 5G network slices, provide differentiated customized network services, and facilitate diversified applications in the 5G era.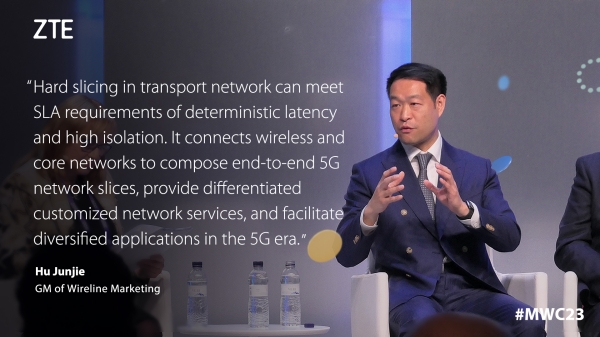 Barcelona, Spain, 28 February 2023  - ZTE Corporation (0763.HK / 000063.SZ), a global leading provider of information and communication technology solutions, today announced that Hu Junjie, General Manager of Wireline Marketing, has shared in-depth insights on network slicing at the session of "That's My Slice!" at the Mobile World Congress (MWC) 2023 in Barcelona, Spain. Mr. Hu has demonstrated ZTE's successful practice in network slicing, and explored the future development of customized networks.
Mr. Hu pointed out that with the advent of the digital economy, 5G networks need to address the differentiated SLA requirements of diversified applications, and at the same time, network slicing is a key technology to support both diversified performance and good user experiences of these applications. By flexibly allocating network resources and integrating network capabilities, network slicing virtualizes multiple logical subnets with different features on one 5G network to provide customized network services for different scenarios.
According to the session synopses, the network slicing market is expected to reach USD 3 billion by 2032, which offers great opportunities for the network slicing while posing great challenges, for example, how to select the slicing technology as well.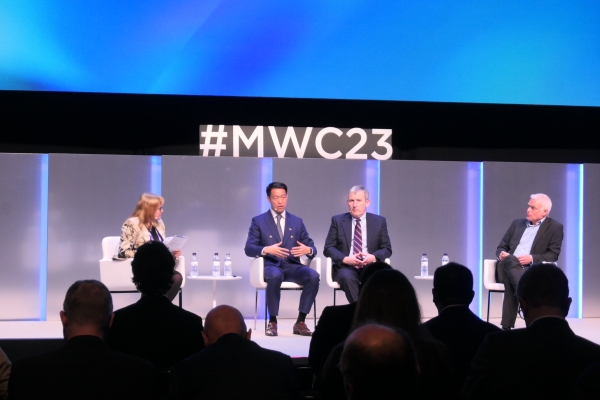 According to Mr. Hu, a complete customized network is composed of 5G end-to-end slices, including RAN, transport network and core network slices, which are indispensable and supported by different slicing technologies.
The wireless network based on air interface resources designed with unified framework can support slices for a variety of scenarios at the same time. Its physical resources can be flexibly allocated. Based on SBA (service-as-a-service) architecture, the core network supports the flexible construction of cloud-based network slicing, and allows on-demand allocation of network slicing resource layer.
As a bridge between the wireless and the core network, the transport network is like the human nervous system. It is like the hub connecting all tissues and organs, and is an important part of the on-demand customized 5G network. There are two categories of transport network slicing: soft slicing and hard slicing, involving FlexAlgo, Slice+, HQOS, MTN, FGU, etc. Hard slicing has better isolation and determinacy but with high cost. Soft slicing has high network utilization but with poor service isolation and network determinacy.
Mr. Hu noted that there are many factors that affect the slice technology selection of operators, including technical inertia, network construction costs, and service demands. As 5G technology gains steam, service demands have a greater impact. In addition to traditional government and financial private lines, new 5G private network demands have appeared in scenarios of mines, power grid, ports, and metallurgy. A network is required to deliver differentiated SLAs to meet different bandwidth, latency and isolation requirements.
Therefore, different network slices are expected to offer precise network services, so that one network can be used for multiple purposes. Hard slicing is a key technology to meet SLA requirements such as deterministic latency and high security isolation. It is also the key point and highlight of the current transport network technology.
Hu added that in terms of 5G end-to-end slicing, ZTE has carried out a large number of cooperation and practice with many operators in the world, especially in SPN FGU (Fine Granularity Unit). ZTE and China Mobile have completed the pilot trials of various private lines including power grid. They introduced a hierarchical hard slicing mechanism into Ethernet for the first time, and bound it to MPLS VPN and SRv6 services, providing differentiated transport with flexible bandwidth, high isolation, and high security for 5G private networks and industry private lines. Besides, with the outstanding performance, this solution won the "Most Innovative Network Slicing Case" award at the Network X held by Informa in Netherlands in 2022.
"ZTE is expecting to work with its partners to fully boost the digital transformation of the industry by innovating the network slicing technology continuously, and bridge the digital gap with richer user experience to build a digital and intelligent future." concluded Mr. Hu Junjie.
For more information, please visit ZTE booth (3F30, Hall 3, Fira Gran Via) at Mobile World Congress 2023, or explore:
https://www.zte.com.cn/global/about/exhibition/mwc23.html
ABOUT ZTE:
ZTE helps to connect the world with continuous innovation for a better future. The company provides innovative technologies and integrated solutions, its portfolio spans all series of wireless, wireline, devices and professional telecommunications services. Serving over a quarter of the global population, ZTE is dedicated to creating a digital and intelligent ecosystem, and enabling connectivity and trust everywhere. ZTE is listed on both the Hong Kong and Shenzhen Stock Exchanges. www.zte.com.cn/global
FOLLOW US:
Facebook  www.facebook.com/ZTECorp
Twitter  www.twitter.com/ZTEPress
LinkedIn  www.linkedin.com/company/zte
MEDIA INQUIRIES:
ZTE Corporation
Communications
Email: ZTE.press.release@zte.com.cn