Tianyi Transportation Technology and ZTE jointly release 5G+ intelligent connected vehicle system with Vehicle-Road-Cloud integration
Release Time:2023-06-28
The Industry's first 5G+ intelligent connected vehicle system with Vehicle-Road-Cloud integration connects digital intelligence and empowers industry upgrade
ZTE provides ultra-reliable network guarantee for safer, more cost-effective and highly efficient autonomous driving services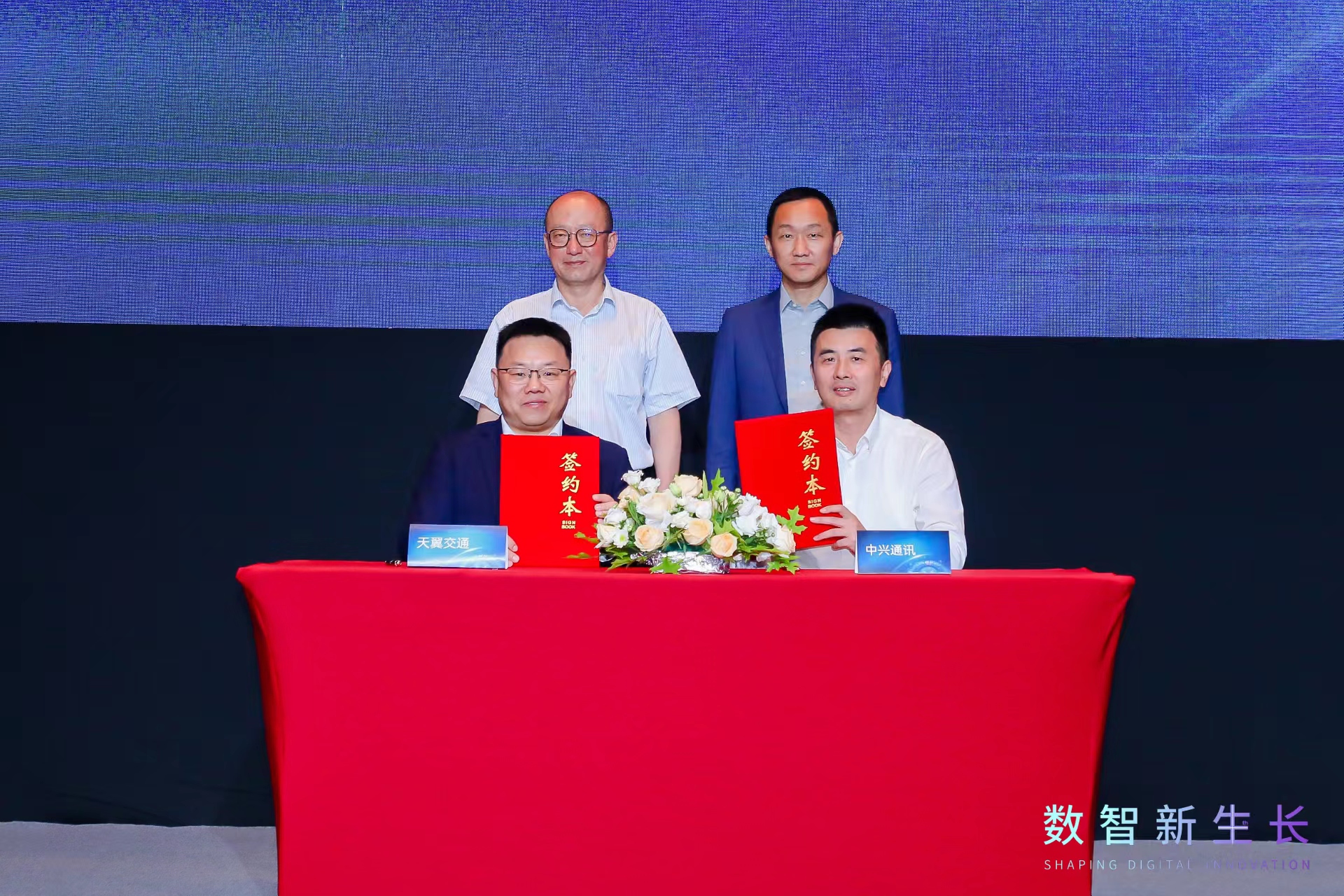 Shanghai, China, June 28, 2023 - ZTE Corporation (0763.HK / 000063.SZ), a global leading provider of information and communication technology solutions, and Tianyi Transportation Technology, an intelligent transportation operator and service provider, have jointly unveiled the industry's first 5G+ intelligent connected vehicle system with Vehicle-Road-Cloud integration at the Mobile World Congress (MWC) Shanghai 2023. Additionally, the two companies have signed a strategic cooperation agreement aimed at accelerating the commercialization of autonomous driving services.
Self-driving cars are currently facing challenges related to security, collaboration, and as well as complex long-tail scenario. However, with 5G+ Vehicle-Road-Cloud integration, it becomes possible to achieve comprehensive whole-road perception and collaborative decision-making, thereby enhancing the autonomous driving capabilities of vehicles.
To meet the stringent service requirements of autonomous driving within the 5G+ Vehicle-Road-Cloud integrated system, ZTE, in collaboration with Tianyi Transportation Technology, has introduced the industry's first ultra-reliable deterministic 5G network guarantee for autonomous driving. Through the implementation of various reliability assurance techniques, the latency can be reduced to 20ms with a reliability level of 99.99%, effectively supporting  autonomous driving services of up to 60 km/h. Furthermore, through the convergence of computing and networking, the sharing of computing resources across different sites can be achieved, empowering the construction of edge-cloud infrastructure. The ultra-reliable network also focuses on optimizing route planning based on real-time network capabilities, aiming to eliminate traffic congestion both on the roads and within the network.
He Zhiqiang, Chairman of Tianyi Transportation Technology, said: "Without the support of communication techniques, Vehicle-Road-Cloud integrated system couldn't provide any service for any participant of transportation. Cooperation with ZTE, low-latency 5G network will provide strong support for our product and enable data decision-making for intelligent networked vehicles. It is believed that with deeper cooperation in the future, we will further iterate key technologies in the Vehicle-Road-Cloud integrated autonomous driving industry and effectively speed up the growth of industry."
Zhang Wanchun, Senior Vice President of ZTE also emphasized the importance of 5G in achieving higher levels of digital intelligence and industry advancement. He stated, "Through collaboration with industry partners, ZTE is confident in harnessing the synergistic effect of 5G+ Vehicle-Road-Cloud and creating an information highway in the new era."
Currently, Tianyi Transportation Technology, in collaboration with ZTE, has successfully completed the initial stage of service validation in Suzhou, resulting in a 60% reduction in network latency in urban road scenarios. In the subsequent phases of collaboration, Tianyi Transportation Technology and ZTE will continue to conduct technical validations across various scenarios, aiming to establish a visible, controllable, and trustworthy  5G+ intelligent connected vehicle system.