China Mobile and ZTE successfully verify key technologies for wireless network digital twin platform
Release Time:2023-07-26
China Mobile and ZTE have opened up a new digital twin cooperation model
The test results of multi-service twinning technology and wireless channel twinning technology are comparable to the latest research results in the industry
The intelligent optimization decision test significantly improves uplink and downlink throughput, providing technical support for intelligent network optimization based on digital twin networks
Shenzhen, China, 26 July 2023 - ZTE Corporation (0763.HK / 000063.SZ), a global leading provider of information and communication technology solutions, and China Mobile have jointly completed the research and laboratory verification of key technologies for their wireless network digital twin. This milestone includes multi-service twinning, wireless channel twinning, and intelligent optimization decision-making based on ZTE's high-fidelity wireless network digital twin platform.
This  successful verification lays the technological foundation for the joint cooperation of China Mobile's new generation AI open platform and ZTE's digital twin platform, leading the development of wireless network intelligence and promoting technology innovation to empower the digital transformation of operators.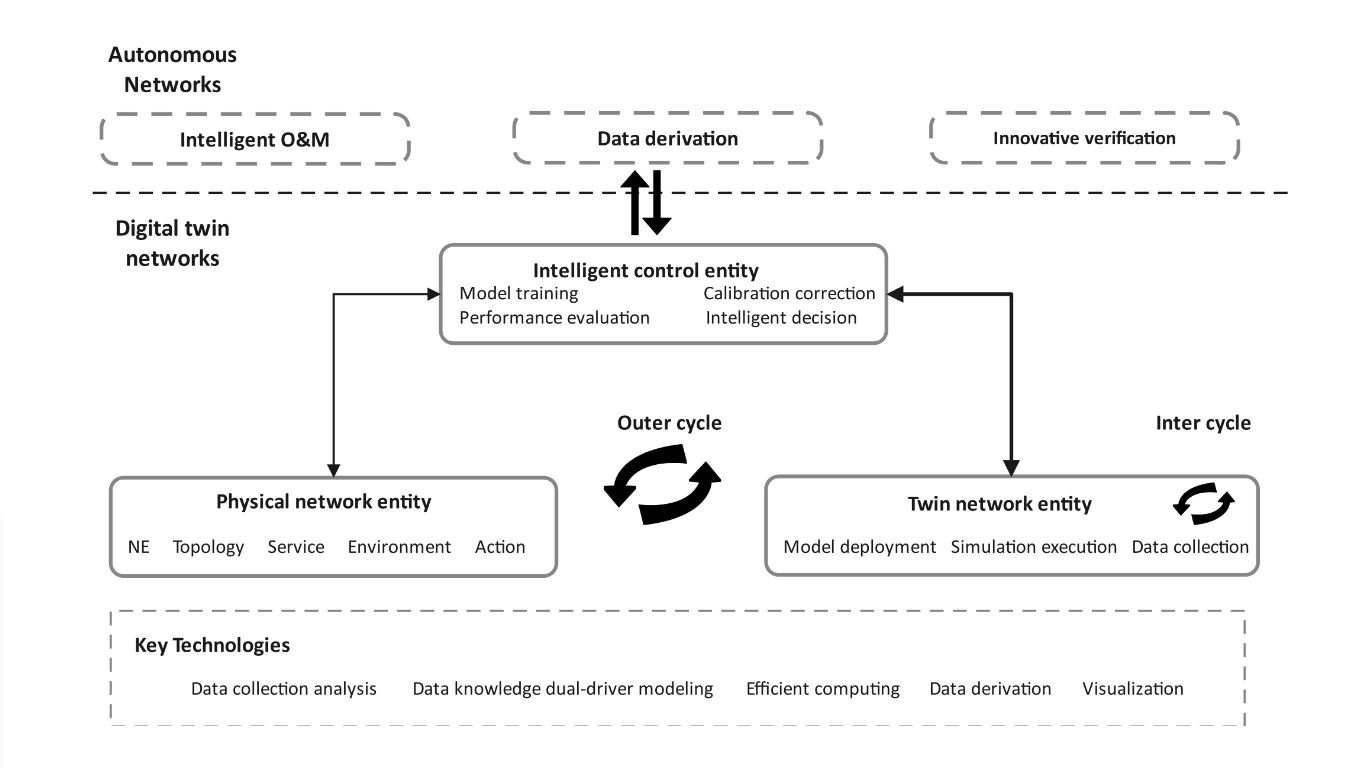 Technical architecture diagram
The multi-service twinning technology utilizes temporal Generative Adversarial Networks (GAN) to replicate real video services such as iQiyi, Youku, and Tencent within the digital twin environment. Notably, the packet mean error of the digital twin application remains controlled within 10% when compared to real applications. This precision allows for evaluating the impact of real applications on user behaviors, network scheduling capabilities, and network performance indicators with exceptional accuracy. This groundbreaking technology empowers operators to make informed decisions and effectively optimize their wireless networks.
The wireless channel twinning technology performs high-fidelity twinning of wireless channels in physical networks. By extracting specific channel characteristics, it further improves twinning precision. The RSRP error of the twinned wireless channel is controlled within 2 dB, and the errors of other major air interface indicators such as throughput are within 15%. Meanwhile, intelligent prediction technology is used for outdoor wireless channels, and the standard deviation between the predicted RSRP value and the measured RSRP value within a range below 3 dB.
Intelligent optimization decision is a critical approach to enhance network intelligence. It offers researchers an approximation of a real wireless network twinning environment, where AI algorithms can be designed to make intelligent optimization decisions and improve network performance. Utilizing the digital twin platform, the output of intelligent optimization decision results in an increase of more than 5% in downlink throughput and more than 25% in uplink throughput, compared with manual optimization. 
The verification results demonstrate that the precision of multi-service twinning and wireless channel twinning is comparable to the latest research results in the industry, providing a critical foundation for applying digital twin technology to real networks. As a result, digital twins significantly improve network intelligence, reduce repetitive costs, and enhance the network performance. Moreover, compared with manual optimization, digital twins offer technical support for subsequent intelligent network optimization. 
Moving forward, China Mobile will  deepen its collaboration with ZTE to explore network digital twin capabilities, including wireless network environment twinning, site twinning, and terminal twinning. Driven by the demands of multi-scenario applications, this initiative aims to empower precise planning, efficient optimization, and intelligent simplified O&M activities by leveraging key digital twin technologies.
Through opening up capabilities for remote service calls, multi-scenario applications intend to build an open industry-academia-research integration ecosystem, co-create a new paradigm of intelligent services, and initiate a novel digital twin cooperation model.
ABOUT ZTE:
ZTE helps to connect the world with continuous innovation for a better future. The company provides innovative technologies and integrated solutions, its portfolio spans all series of wireless, wireline, devices and professional telecommunications services. Serving over a quarter of the global population, ZTE is dedicated to creating a digital and intelligent ecosystem, and enabling connectivity and trust everywhere. ZTE is listed on both the Hong Kong and Shenzhen Stock Exchanges. www.zte.com.cn/global
FOLLOW US:
Facebook: www.facebook.com/ZTECorp
Twitter: www.twitter.com/ZTEPress
LinkedIn: www.linkedin.com/company/zte
YouTube: www.youtube.com/@ZTECorporation
MEDIA INQUIRIES:
ZTE Corporation
Communications
Email: ZTE.press.release@zte.com.cn