ZTE's Hu Junjie: All-Optical Foundation Inspires New Experience in Digital Era
Release Time:2023-10-25
Operators use the FTTR all-optical home network architecture with smart speakers, AI cameras, visual door locks, and doorbells to provide comprehensive security in smart homes, offering multiple layers of protection
ZTE has been expanding the service scenarios and the scope of service objects in optical networks, working to build an environmentally friendly and low-power industrial ecosystem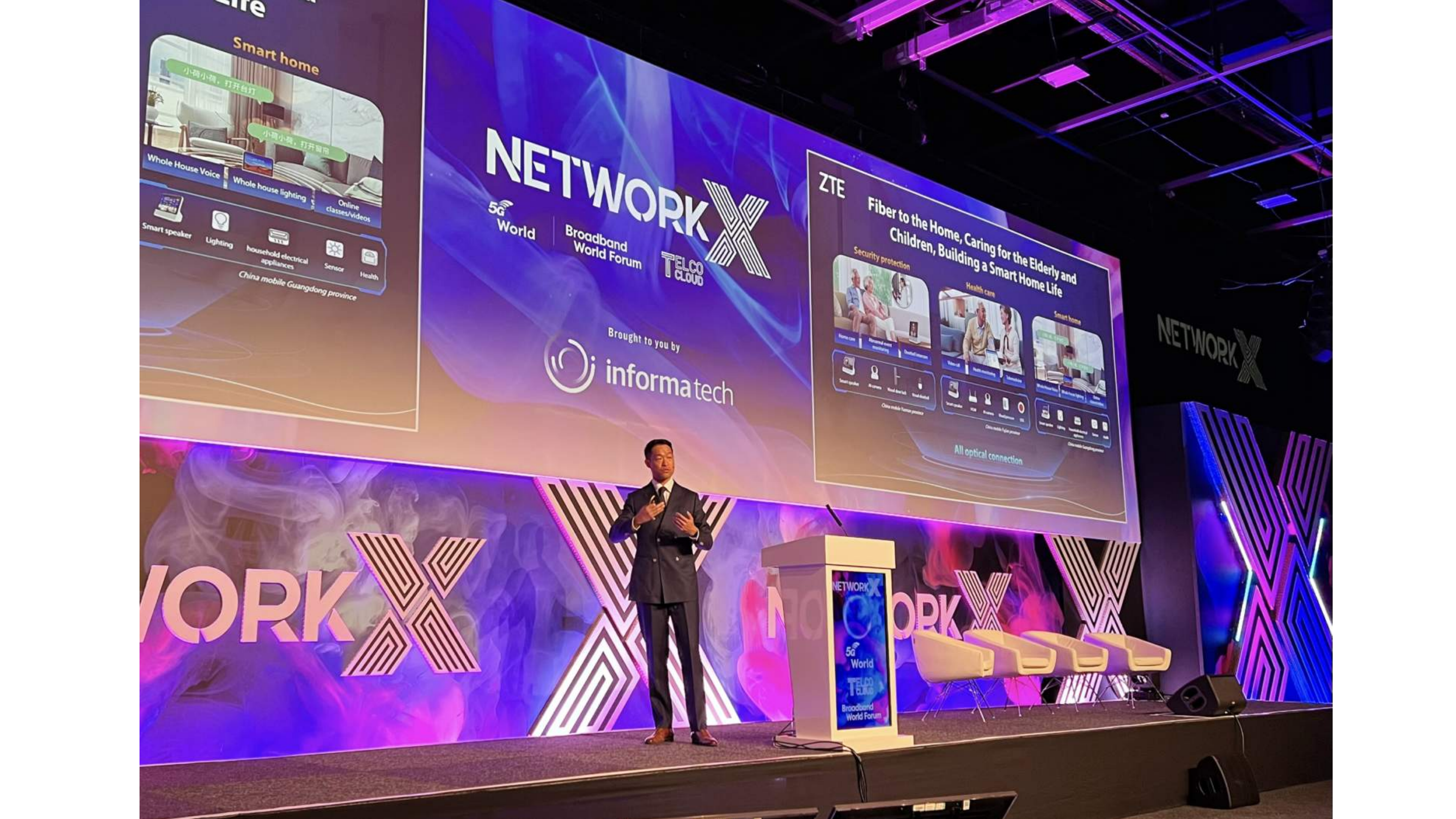 Hu Junjie delivering a keynote speech
Paris, France, 25 October 2023 - ZTE Corporation (0763.HK / 000063.SZ), a global leading provider of information and communication technology solutions, today announced that Hu Junjie, Vice President and General Manager of Wireline Marketing at ZTE, has delivered a keynote speech titled "All-Optical Foundation Inspires New Experience in Digital Era" at Network X, an event held by Informa in Paris, France. During his presentation, Mr. Hu shared ZTE's insights and practices in the development, deployment and evolution of optical networks.
Mr. Hu believes that the global fiberization process is accelerating in the new era. The average FTTx penetration rate worldwide is expected to increase from 69.9% in 2022 to 80.2% in 2027, with projections nearing 90% in regions such as Asia, Eastern Europe, North America, and Latin America. However, global digital development remains imbalanced. Statistics reveal that 34% of the global population lacks Internet connectivity, with even higher proportions in specific countries and regions. Developed countries boast an 80% connectivity rate compared to 36% in developing countries. Urban areas achieve 82% connectivity, while rural regions lag at 45%. Furthermore, there's a substantial gap between high-income and low-income areas, with rates of 92% and 26%, respectively.
In this critical period of global digital transformation, leveraging the role of fiber infrastructures becomes even more essential. Ubiquitous fiber access is key to establishing fair access and bridging the digital divide in various regions of the world. In fact, numerous countries worldwide have implemented national strategies for fiber development. Examples include the Net Pracharat project in Thailand, the Decent Life initiative in Egypt, and Italy's Piano Italia a 1 Giga project. These initiatives aim to enhance Internet access, education, healthcare, employment opportunities, and digitalization in rural areas of their respective countries.
On the other hand, fiber development continues to expand and deepen, further reducing the experience gap among different household members, including seniors and children, and fostering the creation of a digital home. For instance, to address the security needs of seniors and children, Chinese operators employ the FTTR all-optical home network architecture, integrating smart speakers, AI cameras, visual door locks, and doorbells to provide comprehensive security solutions for smart homes, ensuring multiple layers of security.
As the global aging process accelerates, the focus on elderly care and senior-friendly technologies has intensified. In Fujian Province, China, a demonstration community-based smart home for senior care has been established. This innovative project leverages FTTR home all-optical networking, along with the integration of smart speakers and healthcare devices. The smart speakers play a multifaceted role by offering health detection, medical care support, and companionship, making senior care both smart and compassionate.
Over the past three decades, optical networks have played an indispensable role in the continuous evolution of bandwidth capabilities, ranging from 56k to 10G, and the rapid development of applications, transitioning from traditional web browsing to intelligent applications. WDM networks have progressed from single-wavelength 2.5G at the end of the twentieth century to the current single-wavelength 400G/800G era. WDM networks have been originally applied only for backbone, while by now they have been expanded to all scenarios of ULH backbone, core metro, DCI, 5-in-1 access as well as SDH replacement. The access network is undergoing a transformation, shifting from G/EPON to XGS-PON and 50G PON, establishing a robust optical foundation for the advancement of the digital economy.
As the cornerstone of the digital economy, ZTE has been committed to innovating its foundational capabilities. Through continuous iterations of architectures, algorithms, and processes, ZTE has been expanding the scope of service scenarios and service objects of optical networks, collaborating with operators, enterprises and consumers to build an environmentally friendly and low-consumption industrial ecosystem. Taking OTN as an example, the 800G pluggable transceiver module with higher integration reduces power consumption per Gbit by 68%, effectively assisting customers in building high-performance next-generation optical networks. 
Moving forward, ZTE is eager to collaborate with global partners to expand network coverage through end-to-end all-optical networks and accomplish comprehensive digital transformation, ensuring equitable access. Leveraging ultimate network capabilities, ZTE aims to bridge experience gaps and boundaries, enabling a broader range of scenario experiences. Together with global partners, ZTE strives to create a ubiquitous, ultimate, green, and efficient all-optical era.