ZTE releases multiple private 5G products for vertical industries' field networks
Release Time:2023-06-28
The 5G UniEngine V1100A stands as a comprehensive one-stop solution tailored for industrial 5G private networks, seamlessly integrating the full functionalities of 5G core, 5G RAN, and simplified O&M, while also boasting powerful computing capabilities that enable the effortless deployment of third-party applications
The SmartEdge 6100 is a cutting-edge deterministic industrial gateway that offers extensive support for time-sensitive network (TSN) protocols
The MSE N100 holds the distinction of being the industry's pioneering portable test instrument specifically designed for industry service simulation and verification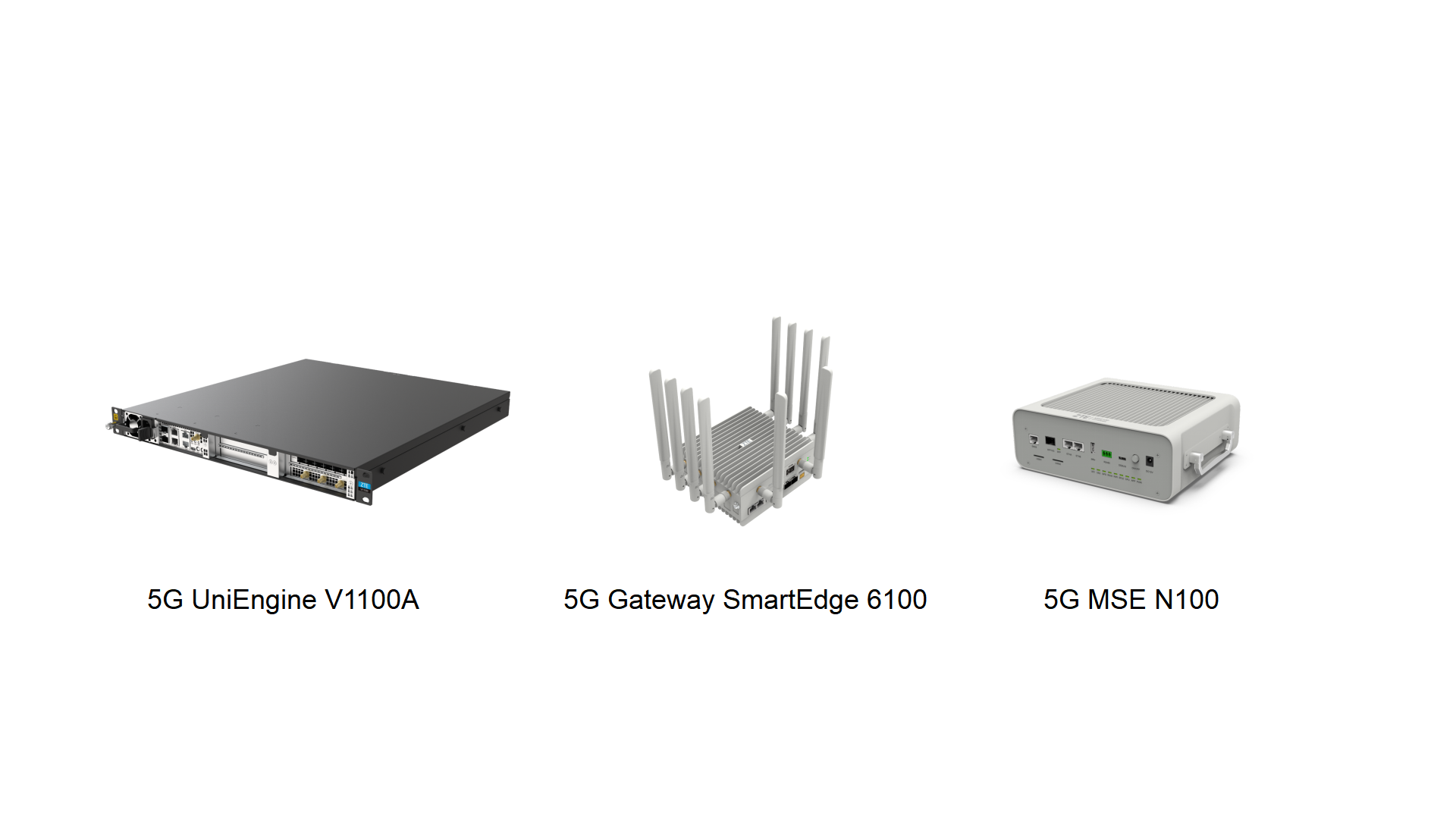 Shanghai, China, 28 June 2023 - ZTE Corporation (0763.HK / 000063.SZ), a global leading provider of information and communication technology solutions has organized the "5G Growing: 5G-Advanced Industrial Innovation Joint Conference" during the Mobile World Congress (MWC2023) in Shanghai. At the conference, ZTE has unveiled a series of new products for 5G industrial field networks, including the 5G UniEngine V1100A, SmartEdge 6100, and MSE N100.
The 5G UniEngine V1100A is an exceptional all-in-one solution for industrial 5G private networks. Following an integrated design principle, the UniEngine V1100A seamlessly integrates the functionalities of 5G core, 5G RAN, and simplified O&M. Moreover, the product offers robust computing power to enable the deployment of third-party applications, a requirement for production field environments aiming to achieve cloud and network integration. With simplified operation and maintenance, industrial customers can efficiently operate their 5G private networks and services with their IT teams. Additionally, equipped with features such as URLLC, TSN, and FRER, the UniEngine V1100A ensures deterministic assurance for critical services in core production areas. Its versatile nature makes it suitable for field networks in various industries, including manufacturing, mining, steel, ports, and more.
The SmartEdge 6100 (SE6100) is an advanced deterministic industrial gateway specifically designed to support time-sensitive network (TSN) protocols. With its wide range of industrial interfaces, high reliability, powerful computing capabilities, and robust environmental adaptability, the SE6100 delivers exceptional performance. It offers hardware-based packet forwarding, native 5G LAN, and deterministic capabilities, making it an ideal all-in-one node for accessing and managing diverse on-site industrial equipment. The SE6100 finds extensive applications in various industrial field scenarios, including remote control, industrial manufacturing, PLC management, logistics sorting, and more.
The MSE N100 is an innovative and industry-leading portable test instrument designed for industry service simulation and verification. It introduces the APP+Server architecture and integrates the functionalities of ToB service simulation, quality evaluation, and log analysis. By addressing the pain points in ToB acceptance testing, it enables service signal simulation and acceptance testing without interrupting real industrial services. Currently, the MSE N100 can simulate various typical industrial services, including PLC, multi-channel videos, and continuous ping packets with intervals of hundreds of milliseconds. It also provides statistical reports on packet delay (with millisecond precision), jitter, reliability, and packet loss. The MSE N100 supports WiFi access and features a user-friendly minimalist Web interface for easy operation. With its wide range of applications, the MSE N100 is extensively utilized for debugging and acceptance testing of 5G private networks in diverse industries such as power grid, manufacturing, mining, steel, and more.
 
To date, the combination of 5G and the industrial Internet in China has gained significant momentum, with 5G applications in fully connected factories transitioning from a supportive role to becoming a critical component of core production. The introduction of these three products by ZTE will play a crucial role in advancing the deployment of 5G field networks in the core production processes of various industries. Furthermore, these products will empower industrial customers to unlock the full potential of 5G technology, leading to enhanced operational efficiency and increased productivity.
ABOUT ZTE:
ZTE helps to connect the world with continuous innovation for a better future. The company provides innovative technologies and integrated solutions, its portfolio spans all series of wireless, wireline, devices and professional telecommunications services. Serving over a quarter of the global population, ZTE is dedicated to creating a digital and intelligent ecosystem, and enabling connectivity and trust everywhere. ZTE is listed on both the Hong Kong and Shenzhen Stock Exchanges. www.zte.com.cn/global
FOLLOW US:
Facebook  www.facebook.com/ZTECorp
Twitter  www.twitter.com/ZTEPress
LinkedIn  www.linkedin.com/company/zte
YouTube www.youtube.com/@ZTECorporation
MEDIA INQUIRIES:
ZTE Corporation
Communications
Email: ZTE.press.release@zte.com.cn