ZTE participates in TM Forum DTW Asia 2023 with uSmartNet solution and forward-looking perspectives
Release Time:2023-03-15
Showcasing its uSmartNet autonomous network (AN) solution in real-life scenarios in fully support of communication service providers in achieving L3 self-intelligent networks
Discussing with global partners on technology development and future cooperation to help them gain a competitive edge in the upcoming 5G competition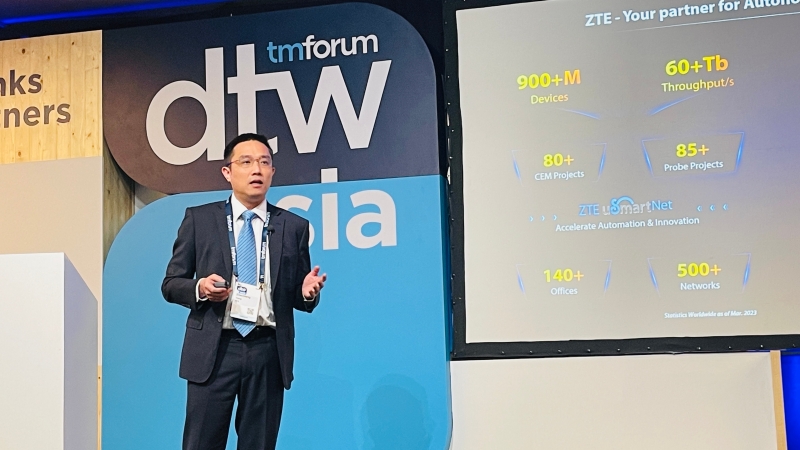 Bangkok, Thailand, 15 March 2023 - ZTE Corporation (0763.HK / 000063.SZ), a global leading provider of information and communication technology solutions, has shared its in-depth insights on the digital transformation of telecommunications operations while showcasing its uSmartNet autonomous network (AN) solution in real-life scenarios for fully support of communication service providers (CSPs) in achieving L3 self-intelligent networks at the TM Forum Digital Transformation World (DTW) Asia 2023 in Bangkok, Thailand from March 14-16.
As a gold sponsor of the event, ZTE also discussed with global partners on technology development and future cooperation to help them gain a competitive edge in the upcoming 5G competition.
TM Forum is the world's largest telecommunications operation and management industry and standardization organization, with more than 800 members in 180 countries, including the top 10 global CSPs. TM Forum focuses on globalizing digital business, promoting the digital transformation of telecommunications operations, and improving the operational efficiency of information and communication industries. This DTW Asia exhibition and conference focuses on forward-looking themes such as telecommunications operations, digital transformation, and AN in the Asia-Pacific market, with over 2,000 business leaders and industry experts engaging in live interaction.
During the conference, Zhang Wanchun, Senior Vice President of ZTE, stated in a video interview that in the wave of industrial digitalization, CSPs are accelerating the construction of a network system that is integrated with the cloud and highly automated and intelligent. By operating autonomously, CSPs can make their networks become the cornerstone of digital transformation in various industries.
Facing the pain points and challenges in AN field, ZTE has proposed "three leadings": business requirements, openness, and network performance. Through innovative technology and industrial collaboration, ZTE is building a healthy ecosystem and leading digital transformation.
At the AN sub-forum of the conference, Yang Zhaojiang, Deputy GM of Big Data and Service Products at ZTE, delivered a keynote speech entitled "Speeding up to L4 Autonomous Networks", sharing ZTE's innovative practices and its thinking on the evolution of highly autonomous networks. Yang stated, "To achieve highly autonomous networks, the path is from L2 single-domain automation to L3 cross-domain intelligence, then from L3 network performance optimization to L4 services end-to-end cognitive operation. Therefore, ZTE has proposed uSmartNet solution, which introduces brand-new technologies such as digital twins, and intent engines to construct the smart brain, to provide the indispensable capabilities for this journey, namely "3D Real-time Experience Twins, Zero Wait Provisioning, Agile Closed-loop Assurance", enabling operators to accelerate the transformation towards L4 autonomous networks.
At the conference, ZTE has demonstrated its uSmartNet AN end-to-end services in real-life scenarios, satisfying the full-business digitalization of telecommunications network operation and management, bi-directional intention-driven intelligence, and service demands in various industries to enhance the value of the digital economy.
As a leading global provider of telecommunications equipment and solutions, ZTE proposed the "Self-Evolving Network" solution in 2019, promoting the comprehensive intelligent evolution of 5G networks with ubiquitous AI. In August 2020, ZTE released the "ZTE Self-Evolving Network White Paper" for AN.
In 2021, ZTE launched the uSmartNet self-evolving network system, which has intelligent core algorithms in network operation and maintenance, and focuses on cross-domain business through the use of big data and AI technologies to provide end-to-end data mining and global analysis of voice and data services, greatly improving indicators, like network performance KPI and business perception KQI, and increasing the overall network traffic and efficiency. In December 2022, ZTE announced that uSmartNet AN solutions will fully support L3.
ZTE is actively involved in the standardization work of AN, closely cooperating with domestic and international standardization organizations. Currently, ZTE holds multiple important positions such as chairman, group leader, and reporter in international and domestic standardization organizations such as 3GPP, ETSI, ITU, NGMN, TM Forum, and CCSA, and has contributed a large number of proposals and smart solutions.
ABOUT ZTE:
ZTE helps to connect the world with continuous innovation for a better future. The company provides innovative technologies and integrated solutions, its portfolio spans all series of wireless, wireline, devices and professional telecommunications services. Serving over a quarter of the global population, ZTE is dedicated to creating a digital and intelligent ecosystem, and enabling connectivity and trust everywhere. ZTE is listed on both the Hong Kong and Shenzhen Stock Exchanges. www.zte.com.cn/global
FOLLOW US:
Facebook  www.facebook.com/ZTECorp
Twitter  www.twitter.com/ZTEPress
LinkedIn  www.linkedin.com/company/zte
MEDIA INQUIRIES:
ZTE Corporation
Communications
Email: ZTE.press.release@zte.com.cn