ZTE attains TM Forum's Open API Certification with uSmartNet solution
Release Time:2023-07-07
Signifying the industry's recognition of the maturity and openness of ZTE's technology in the field of network intelligence
Fully demonstrating that the ZTE uSmartNet Autonomous Networks solution aligns with advanced industry standards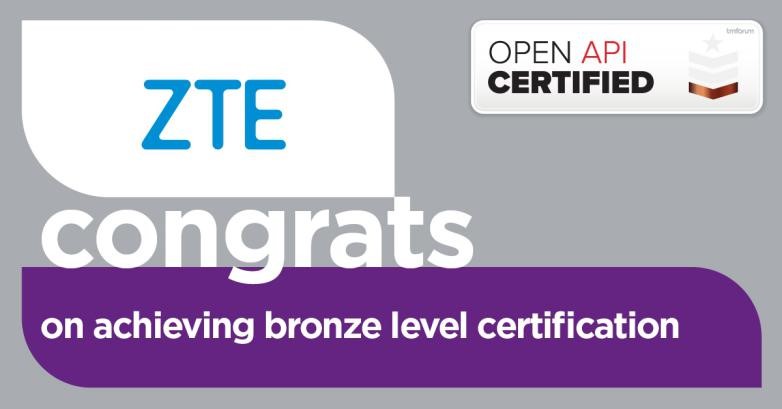 Shenzhen, China, 7 July 2023 - ZTE Corporation (0763.HK / 000063.SZ), a global leading provider of information and communication technology solutions, has successfully obtained TM Forum's Open API Certification for its uSmartNet Autonomous Networks solution. This certification signifies the industry's recognition of  the maturity and openness of ZTE's technology in the field of network intelligence.
The TM Forum Open APIs comprise a suite of application programming interfaces that facilitate the streamlined and cohesive management of various services. These APIs promote smooth connectivity, interoperability, and portability across intricate ecosystem services.
The accomplishment of this certification fully demonstrates that the ZTE uSmartNet Autonomous Networks solution aligns with advanced industry standards. It also introduces new technologies, such as large-scale AI models, digital twins, and intent engines, to support end-to-end service management throughout their lifecycle, promoting online closed-loop operations.
ZTE has demonstrated full compliance with all process requirements and has successfully passed the Open API interface test. Furthermore, ZTE's valuable practical experience plays a significant role in driving the advancement of Open APIs in digital service scenarios.
Moving forward, ZTE will persist in promoting capability openness and advancing cross-domain coordination and cross-industry collaboration. This will enable operators to accelerate their transformation towards highly autonomous networks. 
ABOUT ZTE:
ZTE helps to connect the world with continuous innovation for a better future. The company provides innovative technologies and integrated solutions, its portfolio spans all series of wireless, wireline, devices and professional telecommunications services. Serving over a quarter of the global population, ZTE is dedicated to creating a digital and intelligent ecosystem, and enabling connectivity and trust everywhere. ZTE is listed on both the Hong Kong and Shenzhen Stock Exchanges. www.zte.com.cn/global
FOLLOW US:
Facebook  www.facebook.com/ZTECorp
Twitter  www.twitter.com/ZTEPress
LinkedIn  www.linkedin.com/company/zte
YouTube www.youtube.com/@ZTECorporation
MEDIA INQUIRIES:
ZTE Corporation
Communications
Email: ZTE.press.release@zte.com.cn