ZTE and China Mobile promote SPN innovations using SR-MPLS-based 5G backhaul technologies
Release Time:2023-04-24
China Mobile and its partners including ZTE, developed the SPN technology that enables both soft and hard-isolation slicing
They propose the SPL (Slicing Packet Layer) supporting the SR-MPLS architecture in the 5G backhaul network
They put forward the new SR-TP idea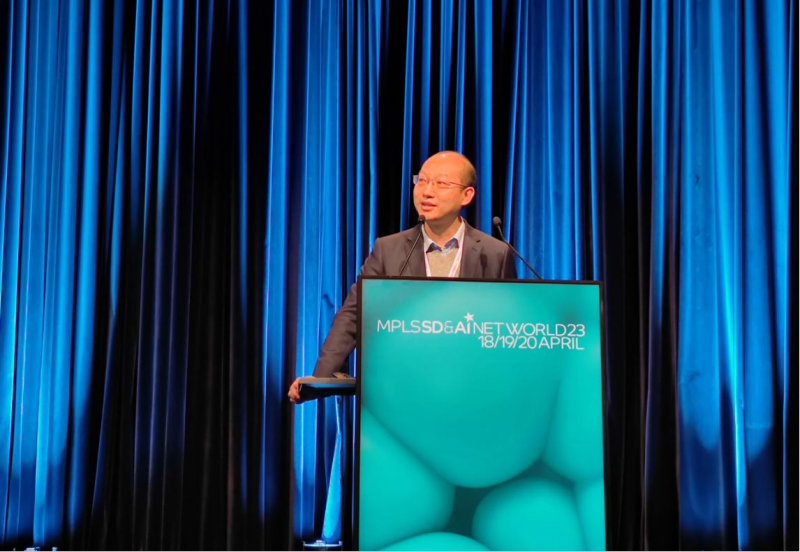 Shenzhen, China, 24 April 2023 - ZTE Corporation (0763.HK / 000063.SZ), a global leading provider of information and communication technology solutions has showed its latest 5G backhaul technologies based on SR-MPLS developed together with China Mobile at the MPLS SD&AI Net World 2023. Liu Aihua, senior wireline system architect of ZTE, shared the technologies and progress in large-scale 5G backhaul network deployment with SR-MPLS in his speech titled "5G Backhaul Practice Based on SR-MPLS".
5G has more critical requirements for backhaul networks than 4G. In addition to bandwidth and network capacity upgrade, latency reduction and determinacy improvement, network slicing is also a major factor for diversified 5G service transport. The network slicing solution is required to support the isolation between slice services, which is the basis for guaranteeing slicing performance. The support for both soft and hard isolation provides more diversified slicing types to offer flexible slices for integrated 5G services. However, traditional TDM networks only allow hard isolation, and Packet Transport Networks only provide soft isolation. Neither of them can meet  integrated service slices transport demands.   
China Mobile and its partners, including ZTE, developed the SPN (Slicing Packet Network) technology that enables soft and hard isolation slicing. The SPN, combining the hard isolation of the SPN SCL (Slicing Channel Layer) MTN and the packet soft isolation of the SR-TP transport, helps China Mobile carry a variety of 5G slice services on a large scale. Additionally, based on the PTN (Packet Transport Network) of 4G, China Mobile, together with ZTE and other partners, propose the SPL (Slicing Packet Layer) supporting the SR-MPLS architecture in the 5G backhaul network. According to China Mobile's experience in large-scale backhaul network management and O&M, they come up with the new idea of SR-TP transport, which can extend the SR Path identifier to achieve compatibility with MPLS-TP and provide the OAM and protection of the transported services.  
China Mobile and ZTE have developed the T-SRv6 solution, which supports transport features oriented to new services such as cloud access private line and computing-network convergence. With SRv6 programmable expansion, the solution integrate SRv6 with SPN MTN/SR-TP slice transport capabilities, enabling SRv6 connections.
Moving forward, China Mobile and ZTE will deepen their comprehensive and innovative cooperation on the SR-MPLS-based SPN, to help China Mobile build an advanced and mature large-scale integrated MAN service transport network.  
ABOUT ZTE:
ZTE helps to connect the world with continuous innovation for a better future. The company provides innovative technologies and integrated solutions, its portfolio spans all series of wireless, wireline, devices and professional telecommunications services. Serving over a quarter of the global population, ZTE is dedicated to creating a digital and intelligent ecosystem, and enabling connectivity and trust everywhere. ZTE is listed on both the Hong Kong and Shenzhen Stock Exchanges. www.zte.com.cn/global
FOLLOW US:
Facebook  www.facebook.com/ZTECorp
Twitter  www.twitter.com/ZTEPress
LinkedIn  www.linkedin.com/company/zte
YouTube  https://www.youtube.com/@ZTECorporation
MEDIA INQUIRIES:
ZTE Corporation
Communications
Email: ZTE.press.release@zte.com.cn