ZTE Privacy Center Officially Launched at ZTE Corporate Website - Your Privacy, Our Priority
Both the Chinese (https://www.zte.com.cn/china/privacy_center.html) and English (https://www.zte.com.cn/global/privacy_center.html) versions of ZTE Privacy Center have been officially launched at ZTE corporate website.
The Privacy Center includes five modules: ZTE Privacy, Product Privacy, User Privacy, Privacy Protection Construction, and Privacy Policy. Open to customers, partners, consumers and related parties worldwide, the Privacy Center introduces ZTE privacy features to users, provides a unified access for users privacy management and interaction channels for users' consultation on compliance issues and risk events reporting.
ZTE Privacy

ZTE Privacy includes "Our Commitment", "Privacy Practice" and "Privacy Certification". Users can understand ZTE's privacy protection philosophy and objectives, query the product's privacy protection features, consult privacy protection issues, and learn about ZTE privacy protection construction achievements.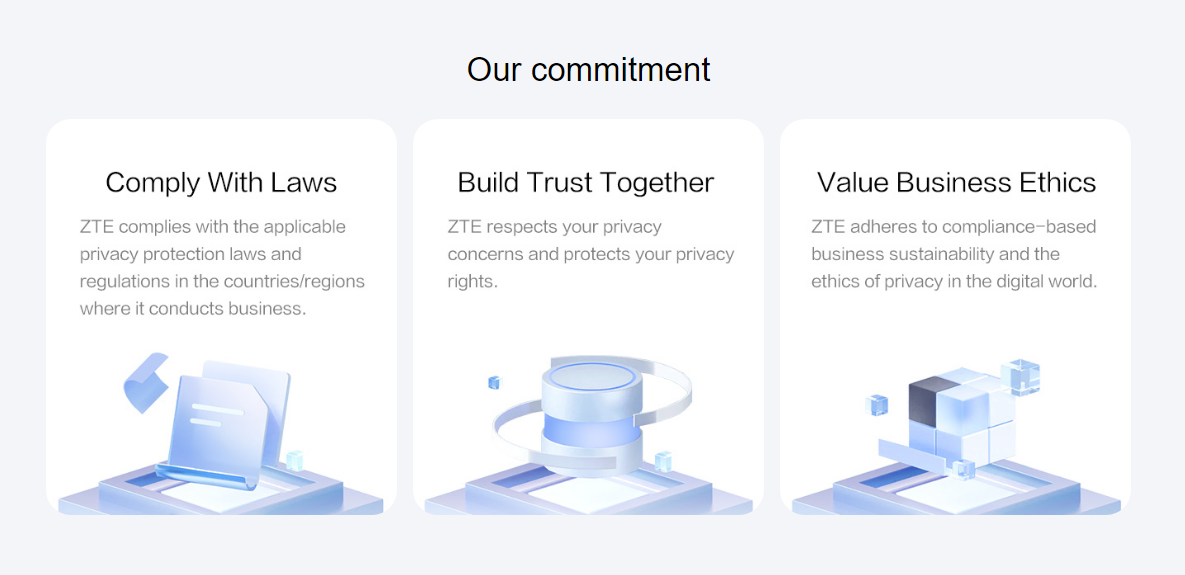 Product Privacy

 

Product Privacy includes "Product Privacy Features". Users are able to better understand ZTE's product security features and how ZTE protects users' privacy through innovative technologies and solutions.

 

User Privacy

User Privacy includes "Consult for Privacy Concerns", "Give Us Your Advice", "Exercise Data Subject Rights" and "Report Data Breaches". Users can submit privacy related questions and suggestions, exercise the rights of data subjects, report suspected data leakage events in this module, and via the integration with Privacy@zte.com.cn, ZTE can timely respond to and handle users' requests and improve users' communication experience.

Privacy Protection Construction

Privacy Protection Construction includes "Privacy Protection Certification", "Privacy Protection White Paper" and "Privacy Protection Research reports". Users can learn more about ZTE's privacy protection certifications, such as ISO/IEC 27701, ePrivacy and TRUSTe, Privacy Protection White Paper and privacy protection related research reports published, and ZTE's related awards in the aspect privacy protection.

Privacy Policy

Privacy Policy includes ZTE "Privacy Policy" and "Cookies Policy". Users can easily access and comprehensively read ZTE's privacy policy to understand the data category, collection purpose, retention period, data sharing and cross-border transmission involved in users' data processing. The Cookies policy provides users with a list of cookies so that they can understand the data processing when visiting ZTE's website.


The launch of ZTE Privacy Center on the official website fully interprets ZTE's open and transparent data compliance concept, respecting digital ethics, and fulfilling the endogenous culture of privacy ethics, and providing global users with more secure, compliant, and credible digitalization with first-class capabilities product service.